Description
Virtual Visuals are a way to connect with our students online.
We miss them and they miss us! This is an easy way to provide common directions (virtually), plus add feedback during our distance learning.
Following Directions Visuals – this set is available in two formats:
Secure PowerPoint slides – you can add a slide (or two!) to your own presentation
PDF – upload the pdf file to your online learning platform
As a special educator, I used multiple modalities to communicate in my classroom. I may model language (auditory, visual text) while adding gestures and visuals (kinesthetic, visual). This can be difficult online, but these virtual visuals will hopefully help!
Virtual Visuals – Following Directions (26 slides)
highlight, underline, find and circle, search and find, look, listen, think, match, join, sort, write, read, color, draw, answer, raise hand, spell, click, press, count, cut, glue, fold, point, order, and trace
This set also includes these Free Virtual Visuals Communication Slides (16 slides):
Good Morning!
Welcome Back!
See you next time!
Check-In Time (thumbs up/down visual)
You're on the right path!
Virtual High 5!
Virtual Fist Bump!
Stop and Think
I hope these slides help distance learning run smoothly and helps "humanize" online teaching.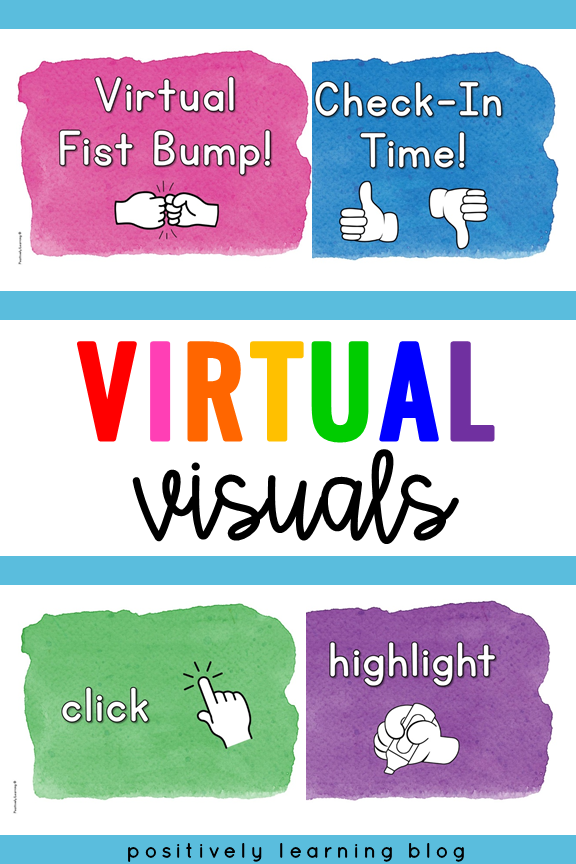 Copyright © Positively Learning. All rights reserved by author. This product is to be used by the original downloader only. Copying for more than one user is prohibited. This product may not be distributed or displayed digitally for public view. Failure to comply is a copyright infringement and a violation of the Digital Millennium Copyright Act (DMCA). Clipart and elements found in this PDF are copyrighted and cannot be extracted and used outside of this file without permission or license. See product file for clip-art and font credits.