Daily Phonemic Awareness Activities for Small Groups
We all know the role phonemic awareness plays in building strong independent readers, but that doesn't mean it's always easy to prioritize. In my experience, I always felt a strong emphasis on phonics, especially as my school continued frequent testing on reading levels.
So how do you fit it ALL in?
In this blog post, I'm going to share with you some fun and effective ways to teach phonemic awareness skills using new words, nursery rhymes, and other engaging activities. The best part is that these tips can quickly become part of your daily routine!
Phonemic awareness skills are the ability to identify and manipulate individual sounds in words. This includes skills such as identifying the beginning sound in a word, recognizing rhyming words, blending individual sounds to make a whole word, and segmenting a word into its separate sounds.
One great way to teach these skills is through small group instruction using activity cards, picture cards, and word play.
Here's my secret for making sure phonemic awareness activities take place every single day in my small reading groups.
Okay, so it's not exactly a secret, BUT it did take me an extraordinarily long time to figure out!
A little detective work revealed that my students needed some more support with phonemic awareness skills. These are the key areas that we focused on in the early stages of reading instruction: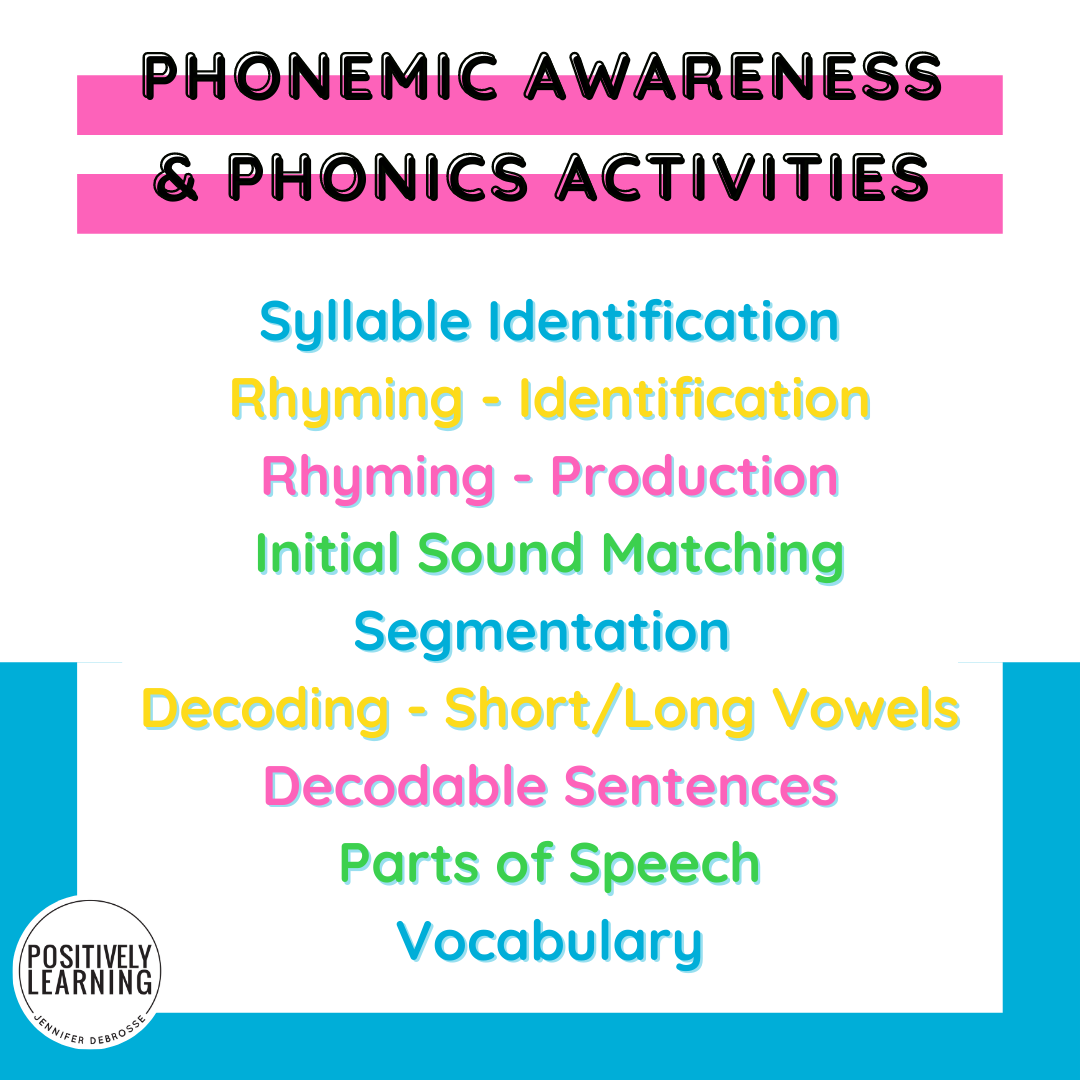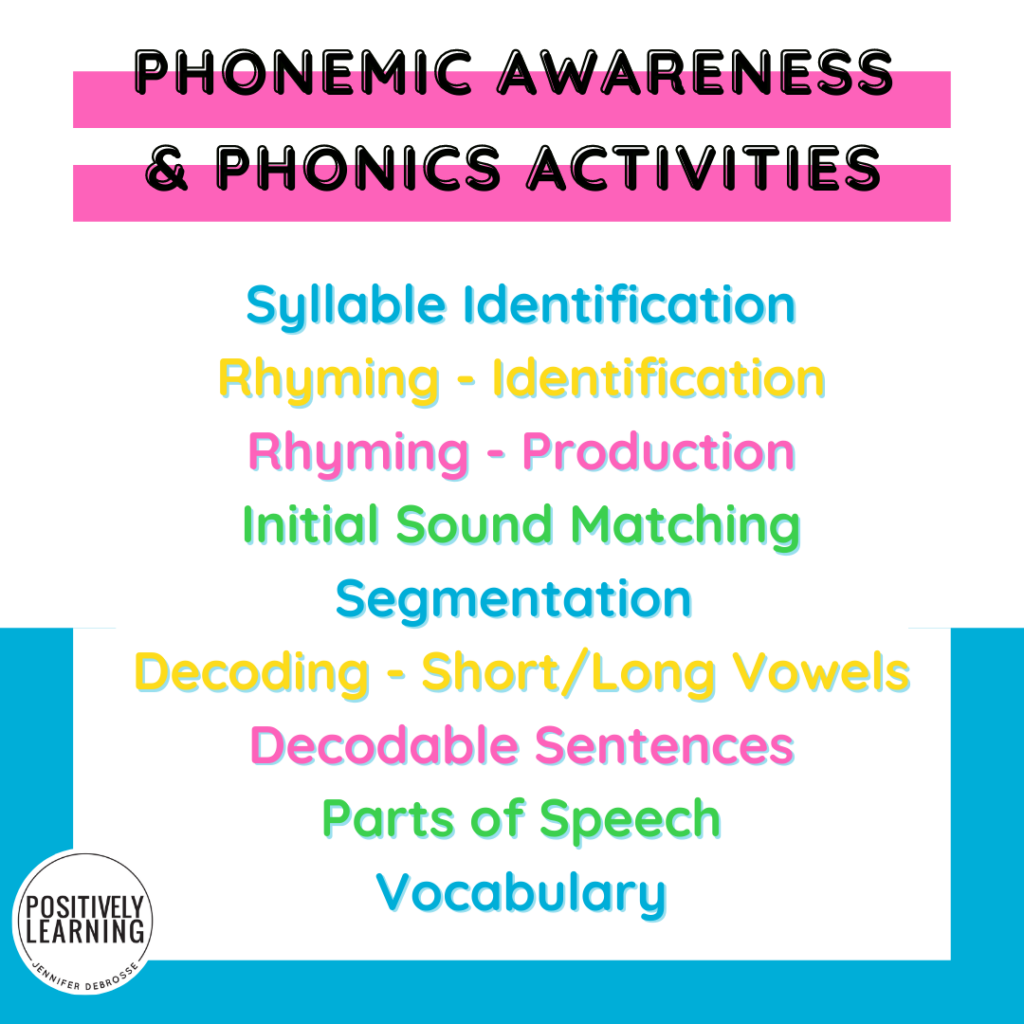 Daily Phonemic Awareness Practice
There are quite a few skills to practice and keep track of, plus a few phonics skills thrown in, too.
Luckily, it takes just a SMALL amount of daily practice to make a BIG difference.
Introducing: Warm-Ups and Cool-Downs
At the beginning of our small reading groups, we select 2-3 skill areas to focus on with about 4 "word play" games for each skill. We repeat the exact same thing at the end of our lesson as a "cool-down."
Here's an example:
That's it!
These short little spurts of daily phonemic awareness practice using a call and respond approach (all verbal) seems to accomplish so much more than blocking out 30 to 45 minutes to focus on one skill.
The best news of all?
Students LOVE it! These are quick word play games (almost like riddles) and they add a little energy to our groups. Working with a sleepy group? Spend just a few minutes focusing on these phonemic awareness activities and watch your group perk up!
Once I saw success with these quick phonemic awareness activities, it was time to get organized! I created word lists for EVERY month of the year – that's probably way more than you need, but you'll also be using them everyday.
Phonemic Awareness: Breakdown of Skills
Rhyming: Students will experience word play activities focused on both identification ("Do these words rhyme?") and production ("What rhymes with…?").
Syllable Activities: Syllable activities help children recognize the number of syllables in a word, which is an important skill for reading and spelling. You can use picture cards or word families to help children practice this skill.
Segmentation: Students will practice segmenting words into their individual phonemes and blend sounds to form a whole word.
Initial Sounds: The initial sound is the first letter of a word and it helps students to identify other words that start with the same sound. It also helps them to develop their phonemic awareness, which is important in learning how to read.
It's important to remember that phonemic awareness is just one part of phonological awareness, which is the umbrella term used to describe a group of skills related to understanding and manipulating spoken language. Other phonological awareness skills include recognizing the first sound in a word, identifying different sounds in a word, and understanding the concept of rhyme.
Research studies have shown that strong phonological awareness is the first step in learning to read. It is the ability to hear and manipulate sounds that form the basis of our spoken language that is essential for successful reading.
Phonemic awareness instruction should start with simple tasks and work up to more complex skills. For example, beginning with the smallest units of sound, or individual phonemes, and then moving on to larger units like syllables and whole words.
Remember, the key to success in teaching phonemic awareness skills is to start with individual sounds and work up to more complex skills. With lots of practice and engaging activities, your students will be on their way to becoming great readers in no time.
Ready to get started?
All of these word lists are organized on cards that can be easily accessed. There are TWELVE sets – one set for each month. Here are the topics included:
January – Winter Words
February – Valentine's Day
March – St. Patrick's Day
April -Spring Words
May – Animals and Insects
June – Nursery Rhymes
July – Summer Words
August – School Supplies
September – Autumn Words
October – Halloween
November – Thanksgiving (Cooking)
December – Holidays
Get ready to see a HUGE increase in confidence as your students rock these phonemic awareness activities!
I'm so excited for you to add these lists to your daily routine!