Description
Need a low prep task box to promote student independent work?
Need MANY low prep task boxes? 
This HUGE bundle of tasks boxes includes endless options that you can have ready to go in your resource room!
Task Boxes – 100 Sets!
There are 100 separate task box activities included in this bundle, however MANY tasks can be divided (and differentiated) to create additional task boxes.
What types of skills are included in the Task Box Bundle?
There is a wide range of skills from fine motor focused to life skills, early literacy and math skills, and social emotional learning.
Here's just a glimpse of what's included (there's SO much more!):
Color Matching
Counting 0-10
Matching "Heads" and "Tails"
Uppercase and Lowercase Alphabet
Build-a-Monster
Pre-Writing Practice
Pom Pom Patterns
Count and Clip
Find the 2D Shapes
Good Choices
Mini Eraser Sorts
Real vs. Not Real
Alphabet Puzzles
Spot the Difference
Shadow Matching
Tracing Paths
Solve the Maze
Pretend Play
Fidget Poppers
Counting Towers
Bundling Groups
Rainbow Alphabet
Apple Counting
Fine Motor Paths
Counting Puzzles
Community Helpers
Animal Matching
Caterpillar Patterns
CVC Word Building
Dinosaur Colors
Play Dough Emotions
Superhero Letters
Crayon Color Words
Antonyms/Opposites
2D Shapes Symmetry
Syllable Sorts
Phonics Spelling Patterns
Visual Discrimination
Color Sorts – Real Photos
Comparing Sets
Food vs Not Food
Coin Sorting
Pattern Blocks
Segmentation
Base Ten Blocks
Addition with Manipulatives
Four Seasons Sorting
and so many more!
Extra Additions to the Task Box Bundle
Stay organized with the Task Box Planning Pages and Data Tracking Page.
Each box is designed to be the LOWEST amount of prep – simple print and cut, adding a minimum of hands-on materials, and easy storage using the 4 x 6″ plastic photo storage boxes (or your preferred storage method!).
Optional visual script cards and title cards are included!
What will you use these task boxes for?
Morning work
Transitions
Early Finishers
Independent Work
Brain Breaks
Calming Corners
Building Stamina for Staying on Task
"Busy Boxes"
Performance Tasks (I.E.P. goal tracking, progress monitoring)
Most task boxes require a lot of preparation, and they only work for one specific season or occasion. These task boxes provide the solution – they are easy to prepare and can be used with any grade level. There's such a huge variety of boxes so you can find the perfect one for your needs!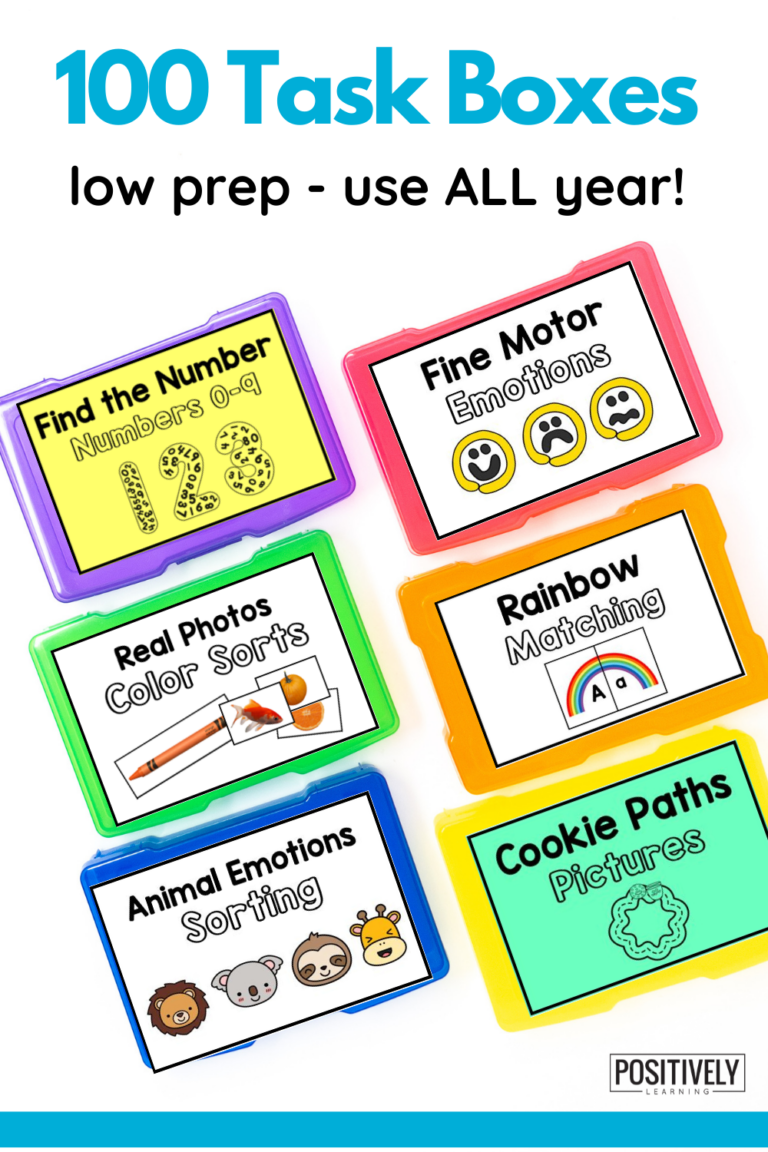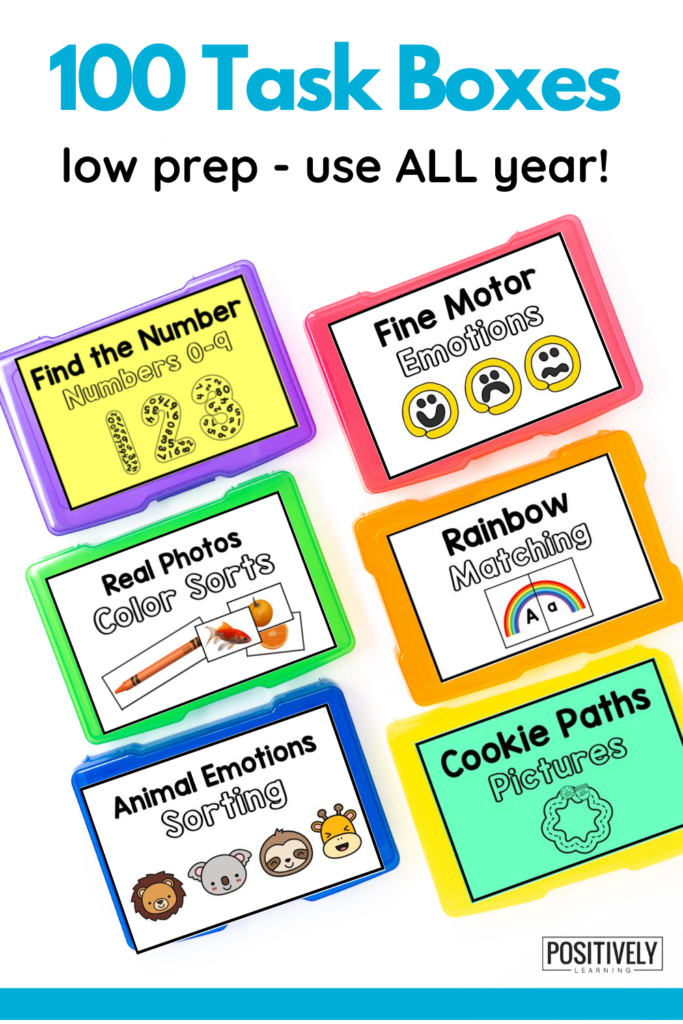 Friendly Feedback from Special Education Teachers:
My students who are academically lower than others in my class loved this resource because they were able to complete them on their own. These task cards are great for building independence and confidence. Such a great resource.
I love these task boxes! They are perfect for my students in K-2 special education. These task boxes are great and align well to grade level standards which is a huge plus. They also fit perfectly in the rainbow bins from Michael's which makes it easy to organize. Definitely recommend these!
This is AMAZING. I love the variety of task boxes included. They are all so clear and cute, and I am so happy! Thank you!
I recently purchased this set of awesome task boxes. I have not had the opportunity to use ALL of them yet since there are so many but the ones I have used are great and very engaging with my students.
This was amazing for students who well below grade level. I used this in my special education classroom and it was perfect for the different level of students.
Copyright © Positively Learning. All rights reserved by author. This product is to be used by the original downloader only. Copying for more than one user is prohibited. This product may not be distributed or displayed digitally for public view. Failure to comply is a copyright infringement and a violation of the Digital Millennium Copyright Act (DMCA). Clipart and elements found in this PDF are copyrighted and cannot be extracted and used outside of this file without permission or license. See product file for clip-art and font credits.