Description
Hands-On Phonics Skills resources all in ONE place!
Are you looking for a phonics resource to support your first grade students? This bundle is FULL of engaging literacy activities. I created this when my school adopted CKLA (Core Knowledge) and my students needed more support.
Reinforce the phonics and phonemic awareness skills students are learning in the CKLA curriculum. Many of these activities and printables are also appropriate for remediation and intervention (first grade), independent work, or on-level later kindergarten enrichment.
These activities would be perfect for small groups and literacy centers during both a reading intervention block and Guided Reading (Daily Five: Word Work centers).
Don't teach using the CKLA Skills Strand? These activities follow a first grade phonics scope and sequence, but can be used to support ANY K-2 phonics curriculum.
All materials use  and are designed to be "." This makes differentiation easy for  your learners!
Shared Reading
Phrase Cards
Wiggle Cards
Picture and Text Sets
Short Vowel Sorting
Initial Consonant Picture Cards
Syllable Sorting
"Flipping" Cards
Magic E foldover cards
Long vs. Short Sorting
(and more!)
Tricky Word Breath Boxes – ALL Units
Tricky Word Extra Cards – in penmanship and traceable fonts
"I Can" Statements – turn all unit materials into independent centers!
Phrase Cards – ALL Units
Wiggle Cards – ALL Units
"Sticky" Tricky Word Tracking
Spelling Test Templates
Word Sorts – Units 3-7
Spelling Lists – Units 3-7
Unit One "Bonus" – Center Signs and Answer Keys!
Tricky Word Games: Red Light, Green Light and Around the World
Mini Sound-Spelling Posters
Fidget Spinner Phonics – mini-pack
"Cheat Sheet" and word assessment diagnostic tool
Spelling Color by Code Templates
Tracing Pages: 100 Phonics Sentences
I Spy! Read and Find Printables
Grammar Sorts
Phonics Movement Slides "Wiggle Words"
Tricky Words PowerPoint Slides
Friendly Feedback For 1st Grade Phonics Skills:
We just started CKLA this year and I have been struggling with centers, this resource is exactly what I needed!
We use these activities and resources in small group instruction and centers! They are a huge help.
This is amazing… I cannot wait to start centers with my first graders! I'm on unit 4, and I wish I would've found this sooner!
You can tell that a lot of work went into this and I am so appreciative!! REALLY HELPS ME OUT!! First year teaching CKLA material
My kids love these activities! I hear them reading and putting the stories back in order. So far everything I have used from this packet has been a winner.
This CKLA skills bundle has so much to offer! It saved me a lot of time by providing many resources I would have had to create myself. It is a value, and I appreciate having access to the additional materials produced after my initial purchase.
Really appreciate CKLA additional activities, including stations!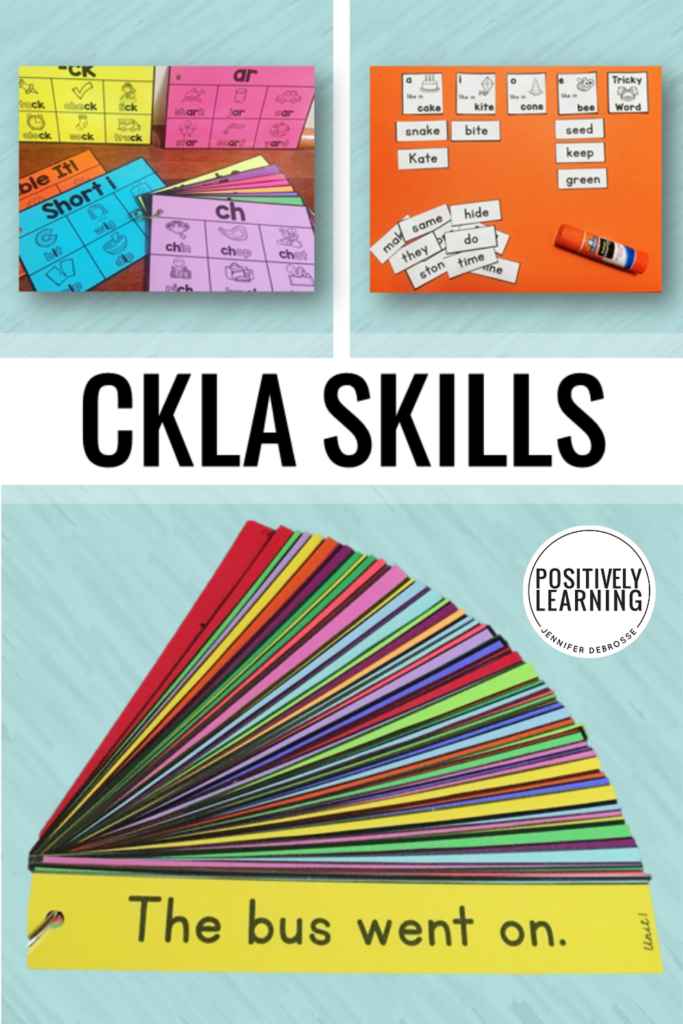 Copyright © Positively Learning. All rights reserved by author. This product is to be used by the original downloader only. Copying for more than one user is prohibited. This product may not be distributed or displayed digitally for public view. Failure to comply is a copyright infringement and a violation of the Digital Millennium Copyright Act (DMCA). Clipart and elements found in this PDF are copyrighted and cannot be extracted and used outside of this file without permission or license. See product file for clip-art and font credits.