Description
Welcome to your new Teacher Planner!
These daily doodle pages feature dot grids instead of lines. This simple switch has REALLY helped me stay organized using the bullet journal approach.
They can be used as a teacher planner for the year, but the open-ended format makes it easy to also use as a life planner, reflective journal, and TPT Seller log.
Did you know doodling actually INCREASES your focus?
There's research to prove that people who doodle may be more productive!
Enjoy doodling with relaxing mandalas, cacti, and more design elements, plus adorable animals (llamas, sloths, pugs, and other friends)!
If you have a tendency to be a bit more Type A than others, I can relate and bullet journaling using dot grids instead of lines has made SUCH a difference. The printable format is also appreciated "just in case" I need a re-do 🙂
There are dated doodle pages for the entire year (plus Leap Year!). The year isn't included, so you can print these pages every year to have the perfect planner.
An undated format of each page is also included in a secure PowerPoint. Use these pages for PD and content team note-taking, or customize your own planner by adding the date.
12 Monthly Pages and 12 Doodle Covers are also included!
Blank template pages are included in PowerPoint. Optional: select these pages and add text boxes.
INCLUDED IN THE ZIP FILE:
Doodle Daily Pages (367 pages, pdf)
Doodle Undated Pages (367 pages, PPT)
!2 Covers and 12 Monthly Pages (24 pages, pdf)
Blank Templates (4 pages, PPT)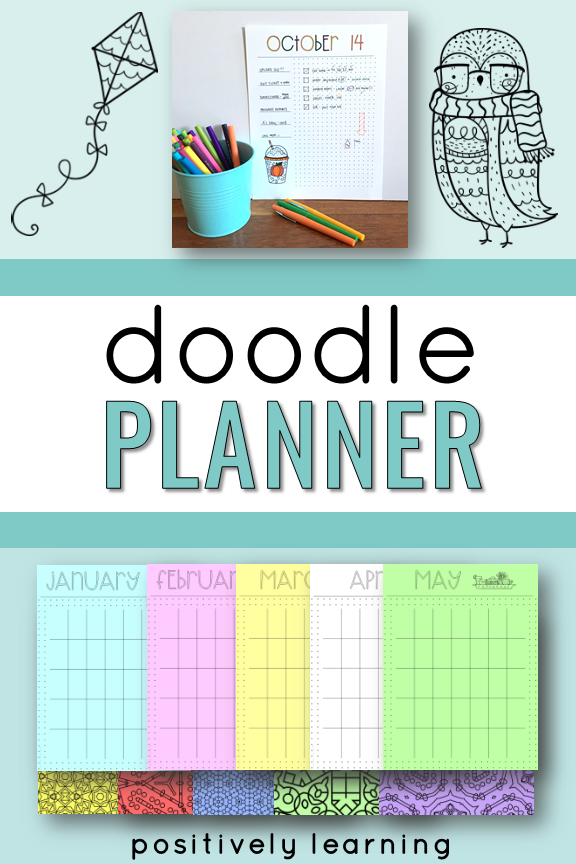 Doodle Planner – Friendly Feedback:
"Ahh!! So happy I found this product! The traditional planner does not work for me…bullet points are my jam! SO excited to use this next year! THANKS!"
"I love to doodle! This product is great to have for the new year! I will be using it daily! Thanks!"
"This is just what I needed to get organized for the New Year! Thank you for a wonderful product."
Copyright © Positively Learning. All rights reserved by author. This product is to be used by the original downloader only. Copying for more than one user is prohibited. This product may not be distributed or displayed digitally for public view. Failure to comply is a copyright infringement and a violation of the Digital Millennium Copyright Act (DMCA). Clipart and elements found in this PDF are copyrighted and cannot be extracted and used outside of this file without permission or license. See product file for clip-art and font credits.