Over the last couple of years more and more teachers have begun to make the shift from traditional morning work to a "soft start" for their students. One of my favorite things to use for little hands and learning fun is busy bins!
What is a busy bin?
Busy bags, quiet bins, sensory bins, busy boxes… whatever you call them, they are simply a bin of items that allow students to practice a variety of fine motor skills.
The beauty of using busy bin activities is that an educator can tailor it to meet the needs and interests of their students. You could create seasonal or holiday busy bins, create them to meet a specific theme or unit focus your students are working on … the possibilities are truly endless. And don't underestimate these hands-on learning experiences – they're not just "busy" work, but instead a developmentally appropriate learning tool.
How are busy bins used in the classroom?
Many educators have started offering a busy bag or bin (or morning tub) as an alternative to morning work.
Using morning tubs allows students to come into the classroom and engage in independent play in a quiet and meaningful way. For many students, this is a much smoother transition into the start of their academic day. But busy bins aren't just limited to classroom arrival! They're a great way to give students a sensory break or to use in a calming corner as needed. They are also a great option with fun ideas for indoor recess.
What do you put in a busy box?
You can make busy bins as high or low prep as you would like! I like to include a lot of items and fine motor practice activities that allow students to practice fine motor skills.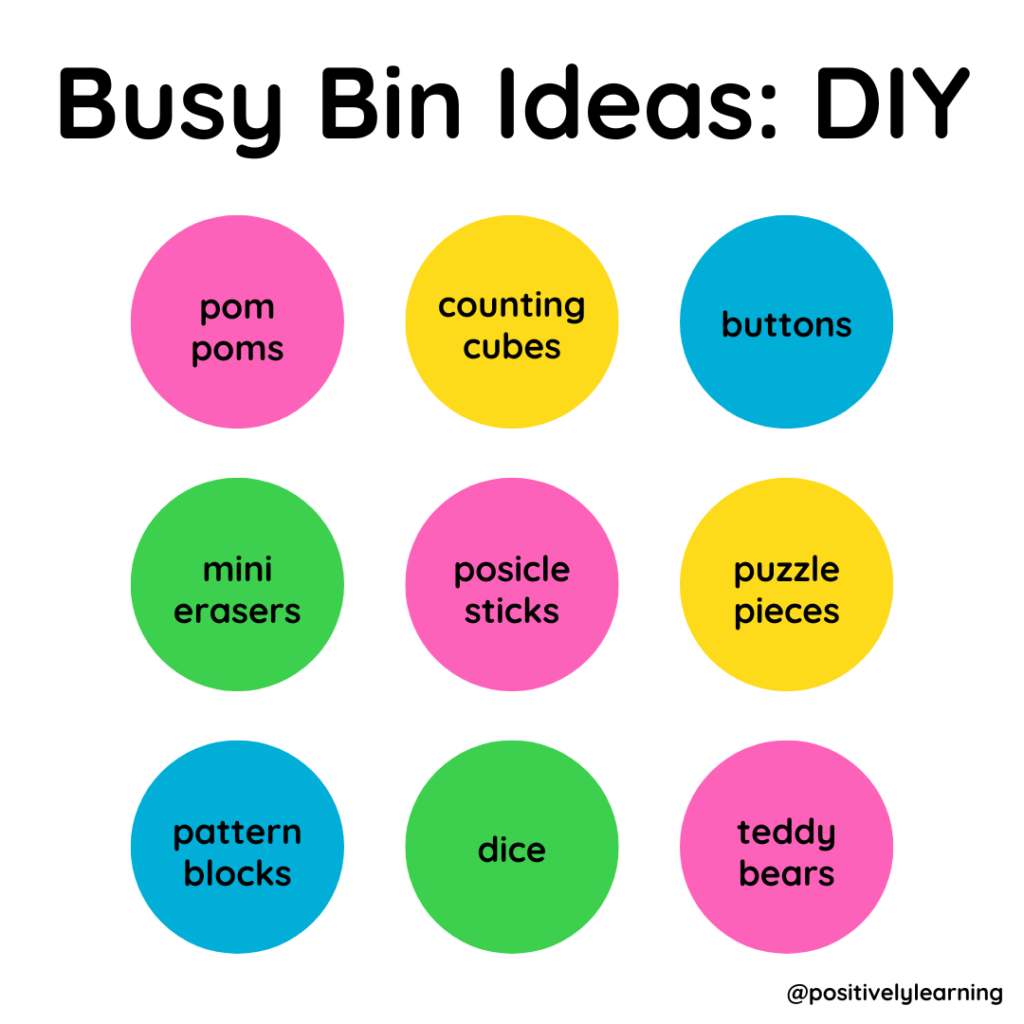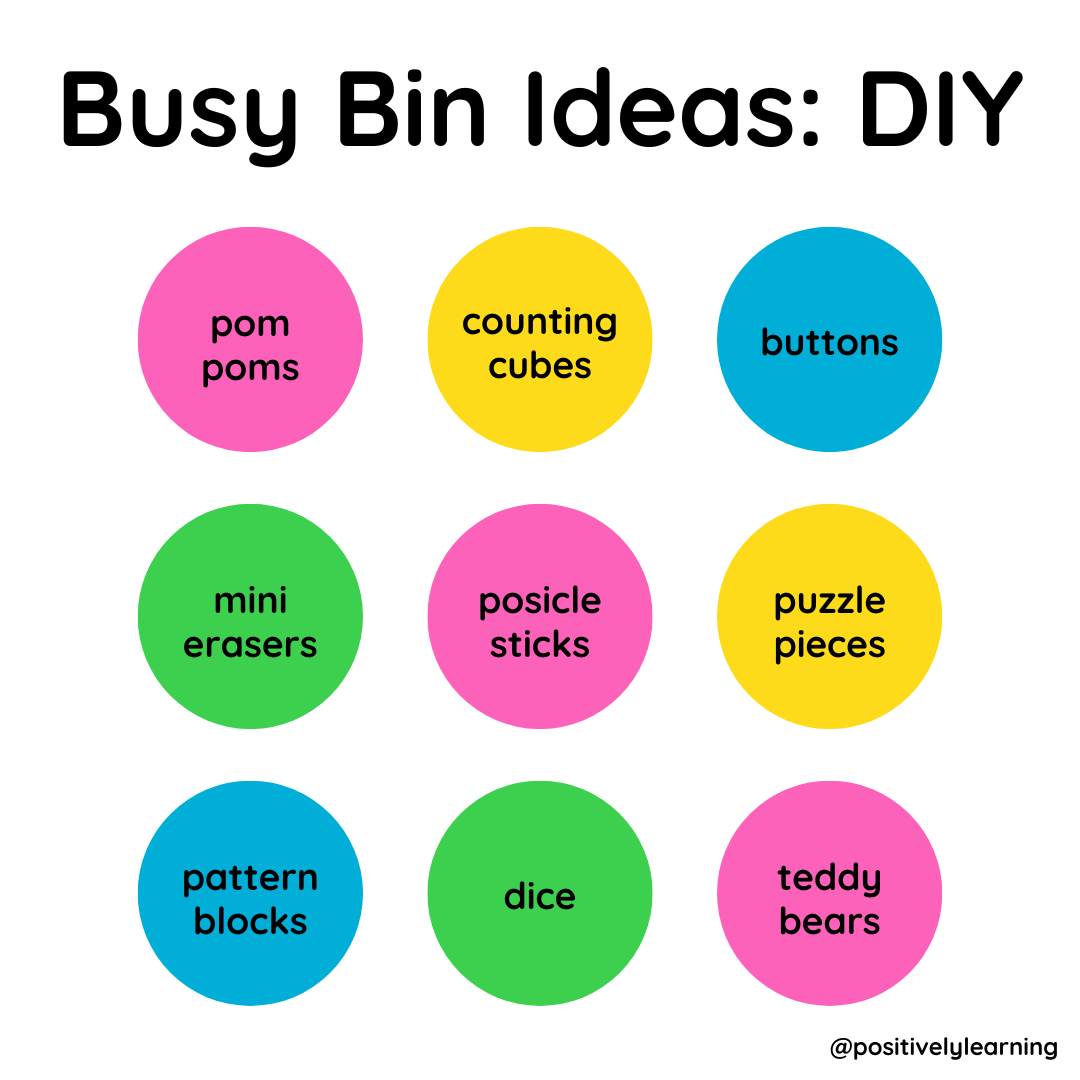 Items such as pom poms, pipe cleaners, small toys, puzzles, popsicle sticks, cookie cutters, magnet letters, mini erasers, pattern blocks or counters – all of these sensory items and supplies make a great addition to the box. A visit to your craft closet, dollar store, or even a garage sale can help you quickly fill a sensory box with small toys and different tools for learning.
You can also add in visual task cards to give students guidance on how to use the materials – for example, math task cards where students build stacks of one digit numbers or representing addition equations with linking chains. You truly can tailor the busy bin to be exactly what you would like!
Benefits of Using Hands-On Busy Bins
Students can use their own busy bin – differentiate based on interest and/or skill level.
Pretend play has almost left the (school) building in the past decade – let's bring it back!
Quiet time allows students (and teachers) to ease into the school day with a positive tone.
Not just for mornings – busy bins and fine motor practice can be used ANY time of the day. Add these hands-on activities to indoor recess, brain breaks, and to smooth out a difficult transition.
Fine motor development – from tying shoes, scissor skills, holding pencils – busy box ideas and activities can help flex those fine motor muscles.
What if I'm not a DIY-er?
Short on time and looking for a super simple (and extremely low prep) solution? Here's an easy answer, plus save yourself a little time: Quiet Bins Bundle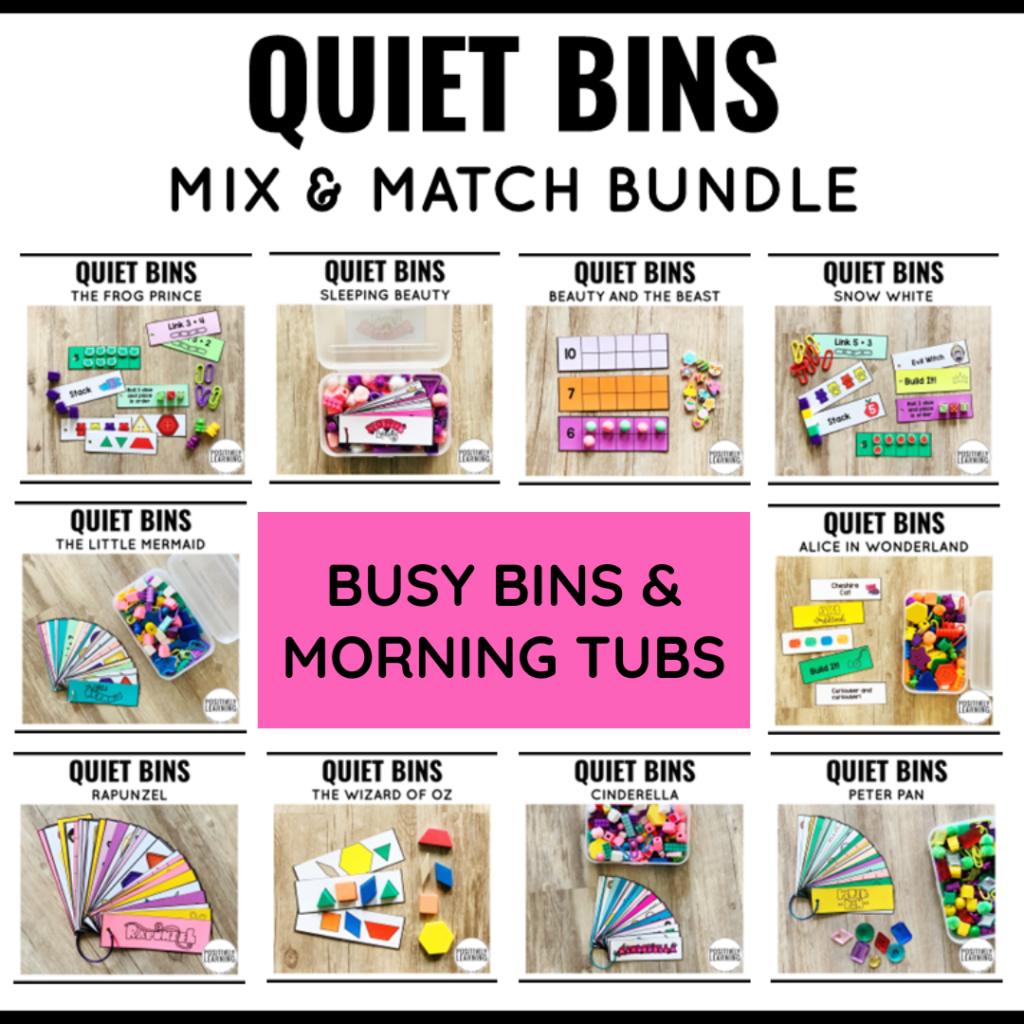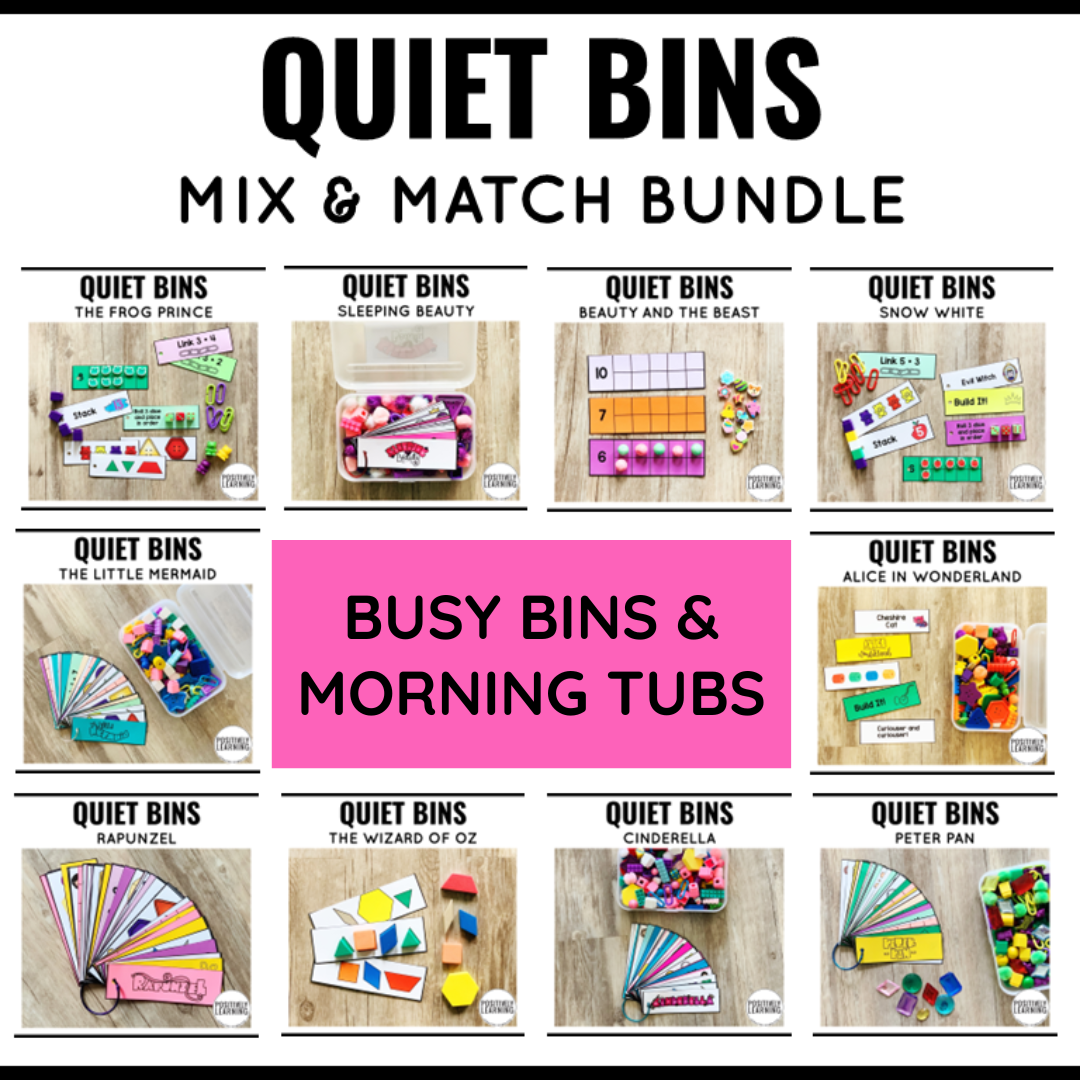 Create a Morning Welcome Work Time block using these fine motor busy bins. Mix and match between the grab and go sets!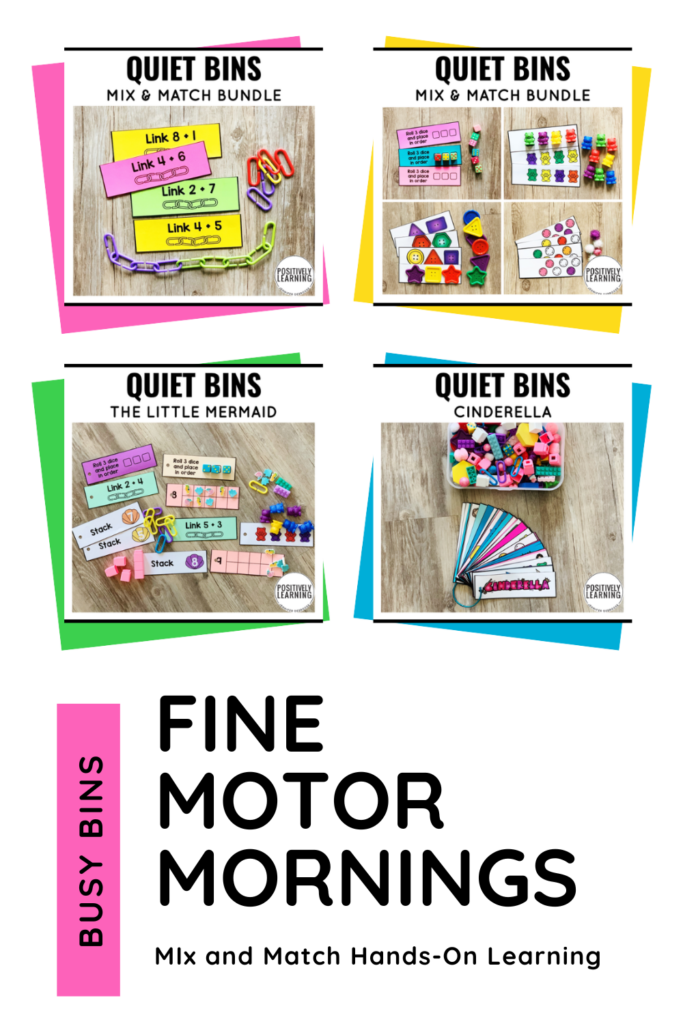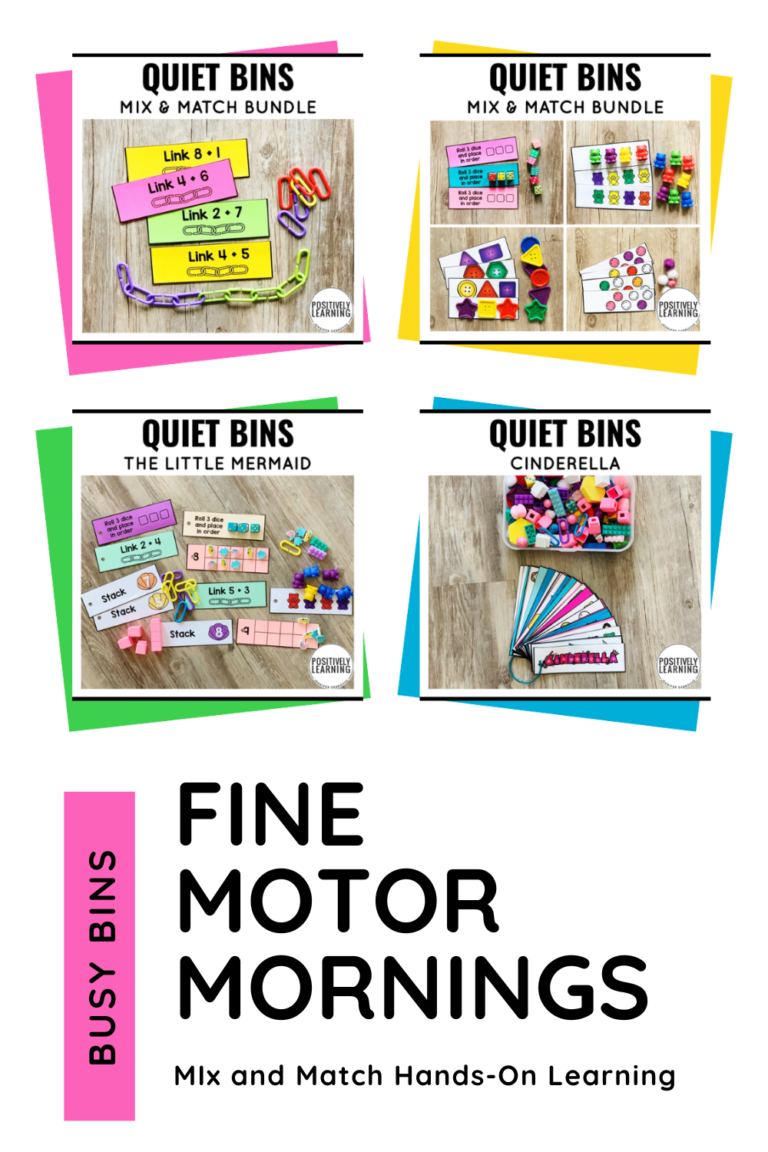 Ready to make morning routines run much smoother?
Check out these mix and match low prep sets of busy bin activities!