Description
Behavior Token Charts based on favorites poems and songs.
These would serve as a positive reinforcement to go along with counting rhymes, OR they can simply be enjoyed as adapted children's poems.
There are ten different poems – reuse your child or student's favorite or mix and match your favorite songs.
Here's what's included for each Behavior Token Poem:
Full size poem with color visuals
Full size poem with 5 horizontal token spaces (black/white – print on colored paper)
Full-size poem with 5 vertical token spaces (black/white – print on colored paper)
Extra tokens in color
Extra tokens in black/white
Poem "mat" that matches the theme (color and black/white options)
To use as a behavior token chart:
Set clear expectations to meet student's individual needs (i.e.: I can ask for help, my hands and feet stay safe). Students can earn tokens throughout the day as positive behavior expectations are met. These tokens can be placed inside the spaces on each poem page (optional: add adhesive Velcro) or placed on the poem mat. The tokens serve as visual reminders of how well they are doing. There are five token spaces, but extra tokens are included so use whatever is best for your classroom or home.
To use as adapted poems/songs:
Choose one poem page (3 formats included) and print (optional: insert into plastic sleeve for durability). Sing or speak each verse while putting the tokens on/taking the tokens off. Idea: add these adapted poems to your morning or afternoon carpet routine.
Behavior Token Poems Included:
5 Little Pumpkins (lyrics adjusted to not be Halloween-specific)
5 Little Cookies
5 Red Apples
5 Little Monkeys
5 Silly Sausages
5 Little Fishies
5 Little Mice
5 Slippery Jellyfish
There Once was a Little Bird…
One Elephant Came Out to Play…
PDF, 85 pages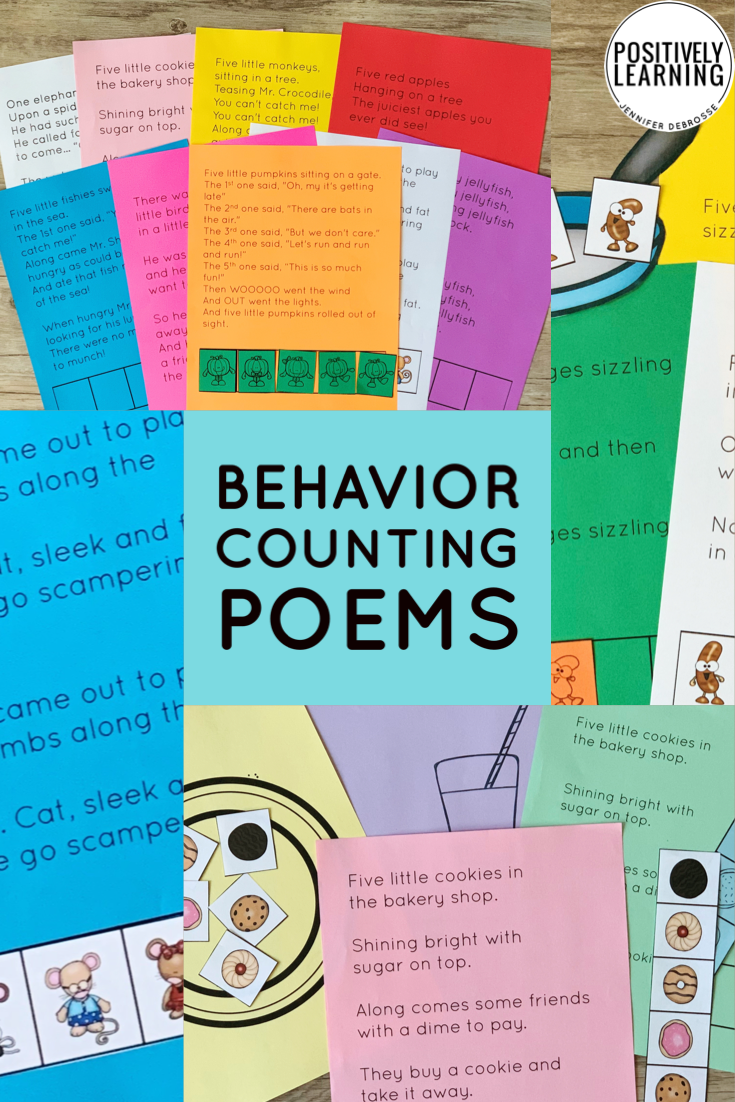 Copyright © Positively Learning. All rights reserved by author. This product is to be used by the original downloader only. Copying for more than one user is prohibited. This product may not be distributed or displayed digitally for public view. Failure to comply is a copyright infringement and a violation of the Digital Millennium Copyright Act (DMCA). Clipart and elements found in this PDF are copyrighted and cannot be extracted and used outside of this file without permission or license. See product file for clip-art and font credits.