As a special educator, we're always looking for more tips and tools to help the school day run smoother. One of my favorite things to use with my students are behavior modification visual cue cards. When a student needs a quick reminder, it's so helpful to have a set of visual cues that are easy to access and ready to go whenever I need them.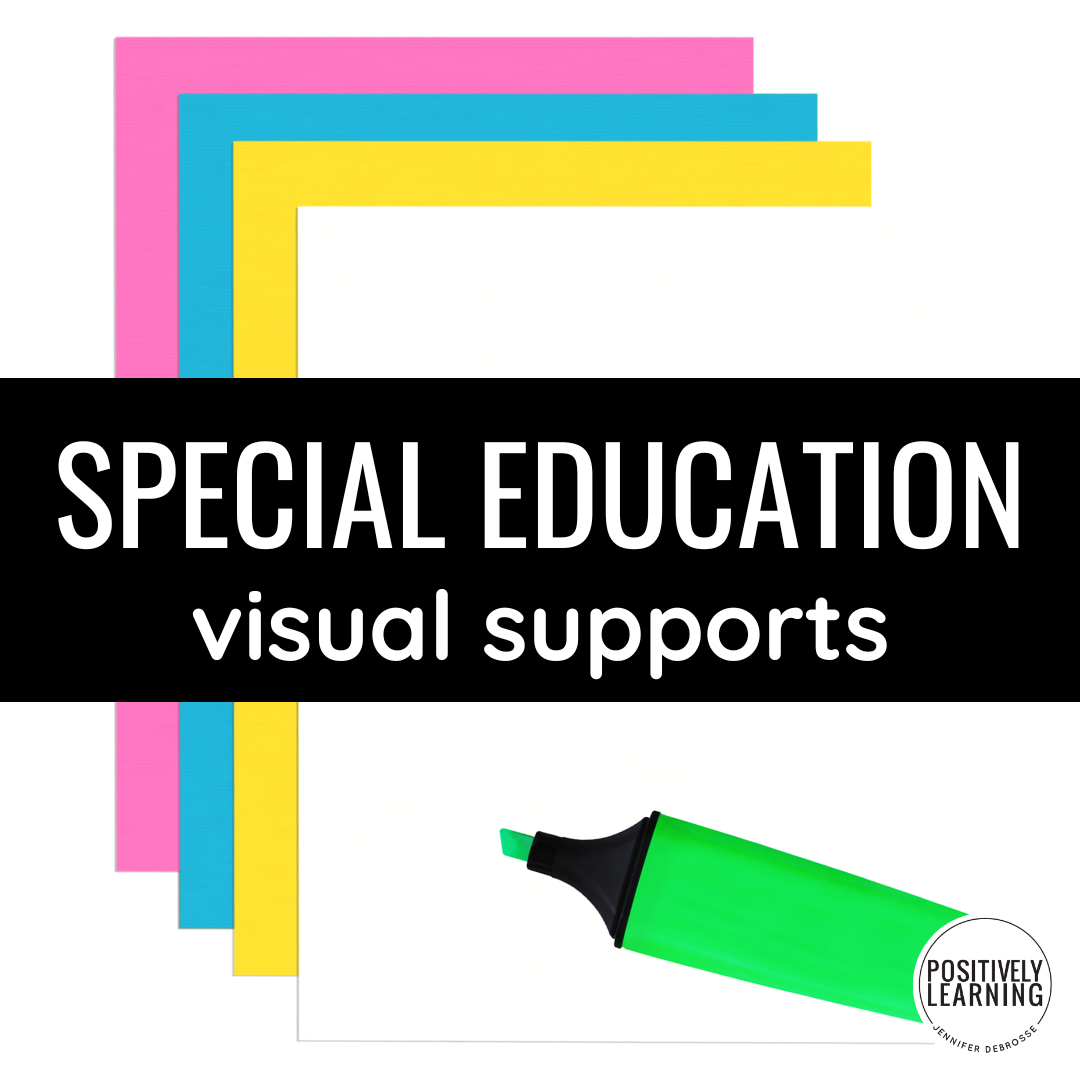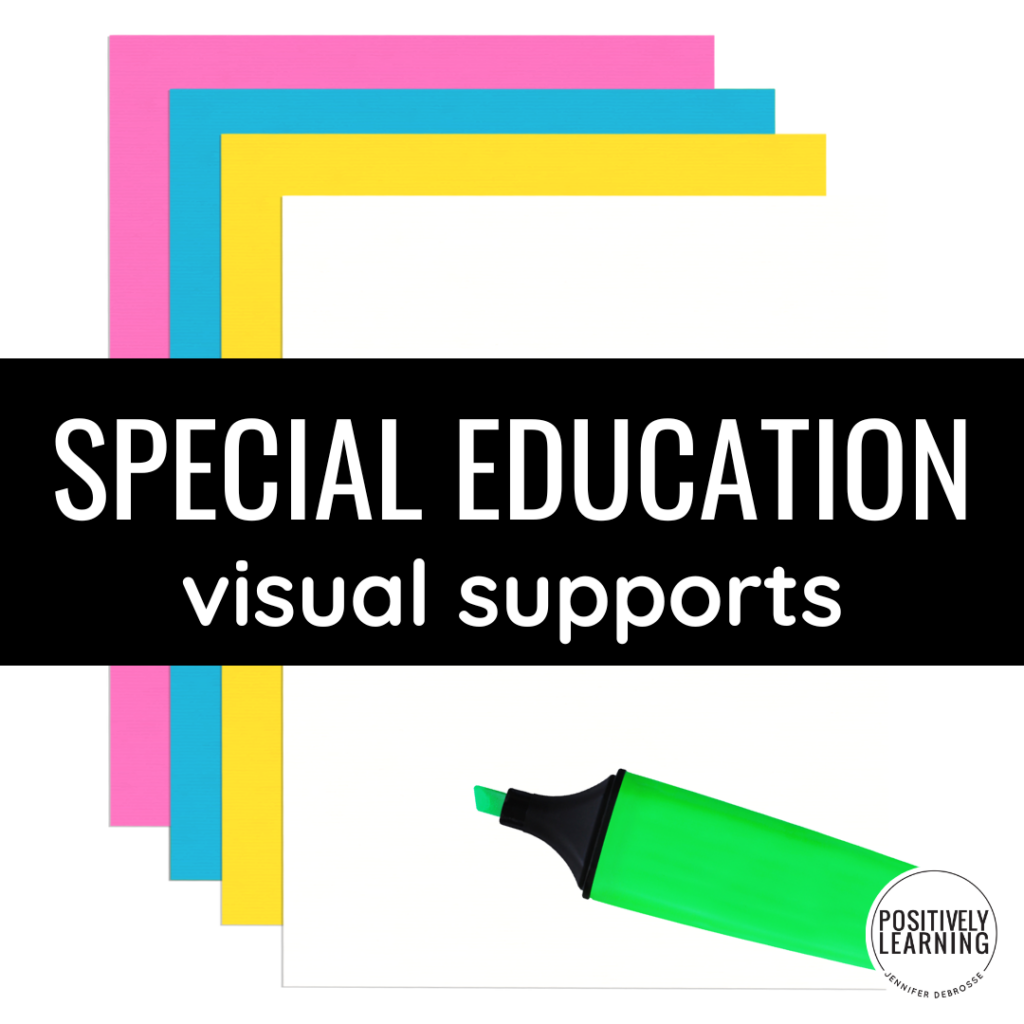 What are visual cue cards?
They are exactly what they sound like! A card that contains a picture, or visual, to prompt students who may have challenging behaviors and need support with their communication skills. The use of visuals is an simple way to provide extra reminders of classroom routines throughout the day.
What type of visual cues do you use?
This is the beauty of visual cues – you can modify them to meet the needs of your own individual students. Some examples of visual aids you may want to include are raise your hand, thumbs up and down, and daily routine steps, like washing hands. Other cards may reinforce classroom rules or social skills. There's a variety of ways to add these visuals whenever you want to replace verbal instructions.
How do you use visual cue cards in your classroom?
My favorite way to use these cards are in a lanyard (click here to see the ones we used) like the one pictured below: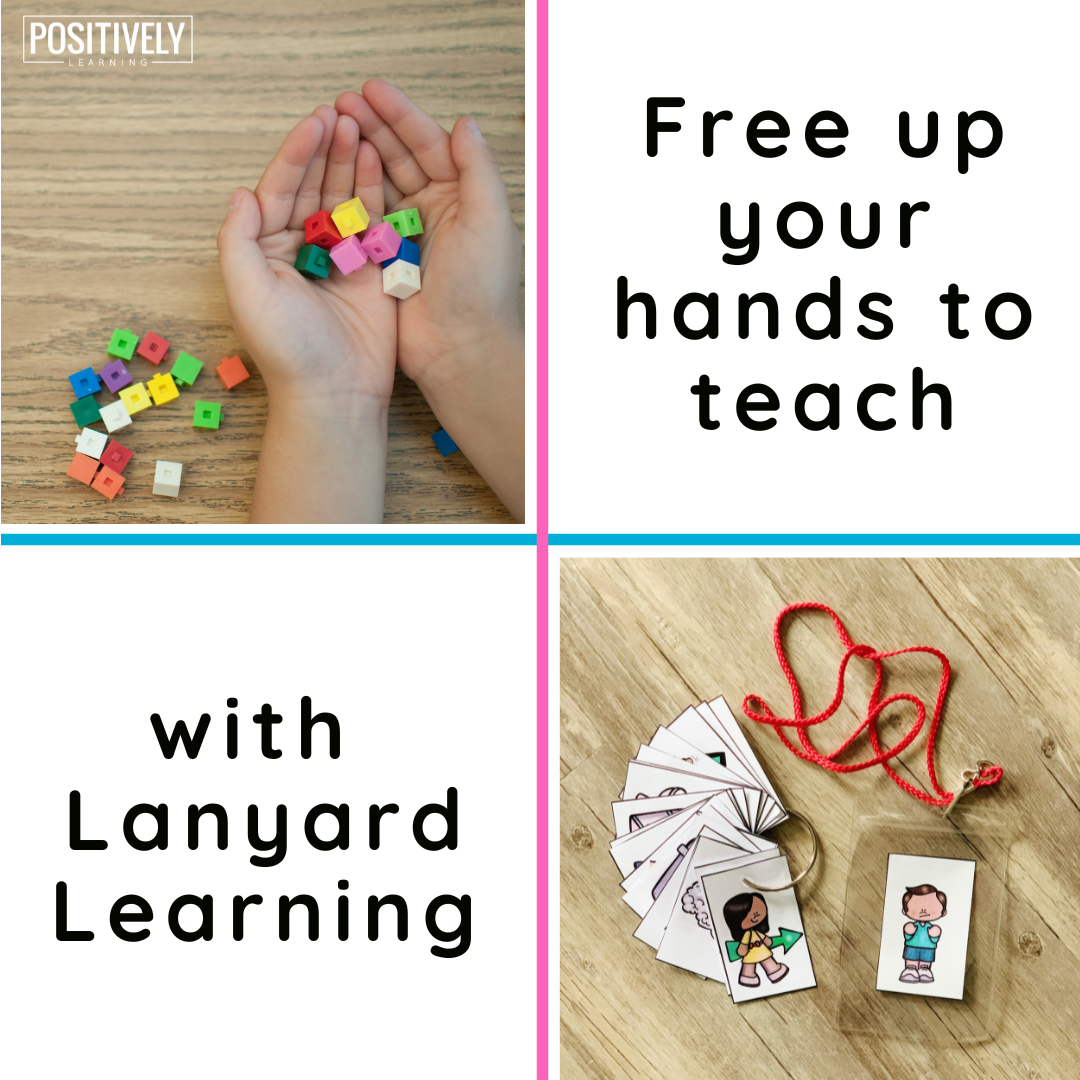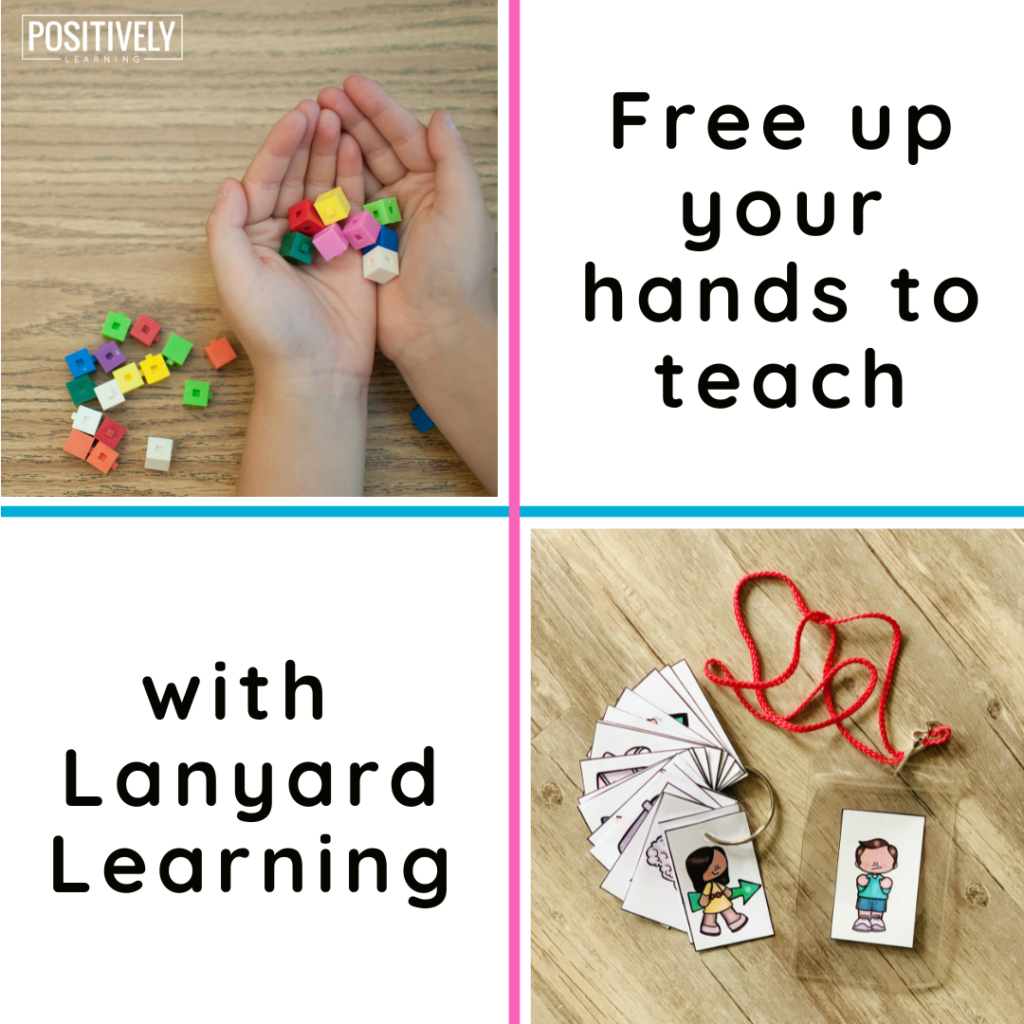 If you are a special educator who moves between classrooms, using a lanyard makes it easy to take the visual reminders with you as you work with different students with special needs. Keep your hands free for teaching!
Here are some other suggestions for setting up your visual reminders whether you're in special education classrooms throughout the day or pushing into general education classrooms:
Display a set of cards in a pocket card or schedule board and point to the individual picture card as needed. Students are able to see them throughout their small groups session with you as a reminder of expectations or to receive immediate feedback (i.e.: pointing to the thumbs up card).
Store the picture visuals on a book ring. This is a great option for educators who move around a lot and prefer a different option from wearing a lanyard. You could also create a set for students to use as needed to help communicate their needs with you as a teacher
Laminate and tape to student's desks. If you have students who struggle with 2-3 behaviors, you could place these on their desk as both a support and reinforcer. This could also be used with students learning in inclusive classrooms who benefit from visual reminders in a discrete manner.
Communication Boards – customize an individual schedule for visual learners. Use adhesive (i.e.: Velcro) to move picture cards to prompt schedule changes or transitions.
Paraprofessionals – empower support staff with their own set of visual support systems! Using these types of support from the beginning of the year is a great way to increase a child's understanding of expectations.
Visuals are versatile tools that can be used in a variety of ways to meet the needs of students with developmental disabilities.The use of visual aids is an important step in fostering independence and self-regulation with our students. Accessing visual prompts helps reduce reliance on verbally being given instructions during transitions, classroom learning, and social situations.
Ready to start implementing behavior modification cue cards with your own students?
Check out these powerful tools!
Lanyard Learning – Behavior Visuals Include:
Countdown (5 to 1, 3, 2, 1)
Walk
Ask question
Excuse me
Deep breaths
Calm
Thumbs up/down
Focus
Stand
Sit
Raise hand/participate
Stop, wait, go
Pause/hold
First, then
First, Next, Last
Think
Wash hands/soap
Toilet/flush
Trash
My turn/your turn
Talk/use your voice
Safe hands, safe feet
Good idea/good job
Mute
Now (clock)
(Go to) door
Chair/sit down
(Go to) desk/table
Technology
(Go to) carpet
Don't/stop
Want
What?
(Come) here
I need a break
Stop/break
Go/break over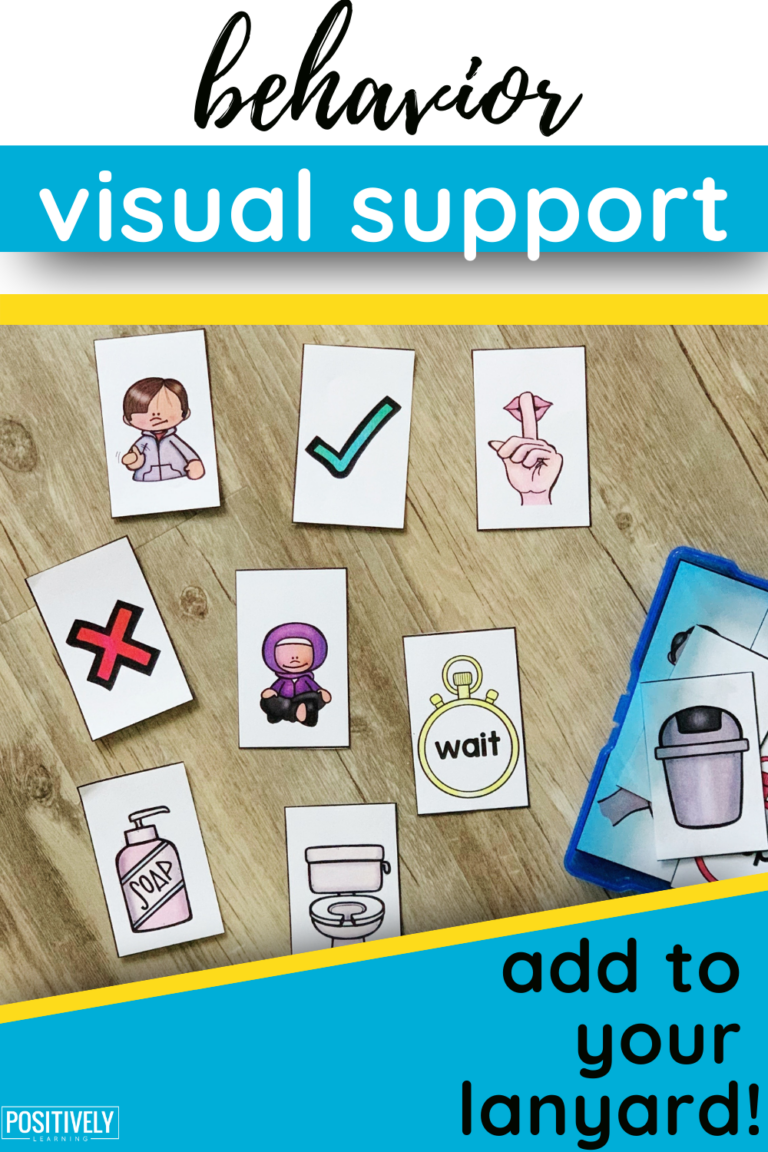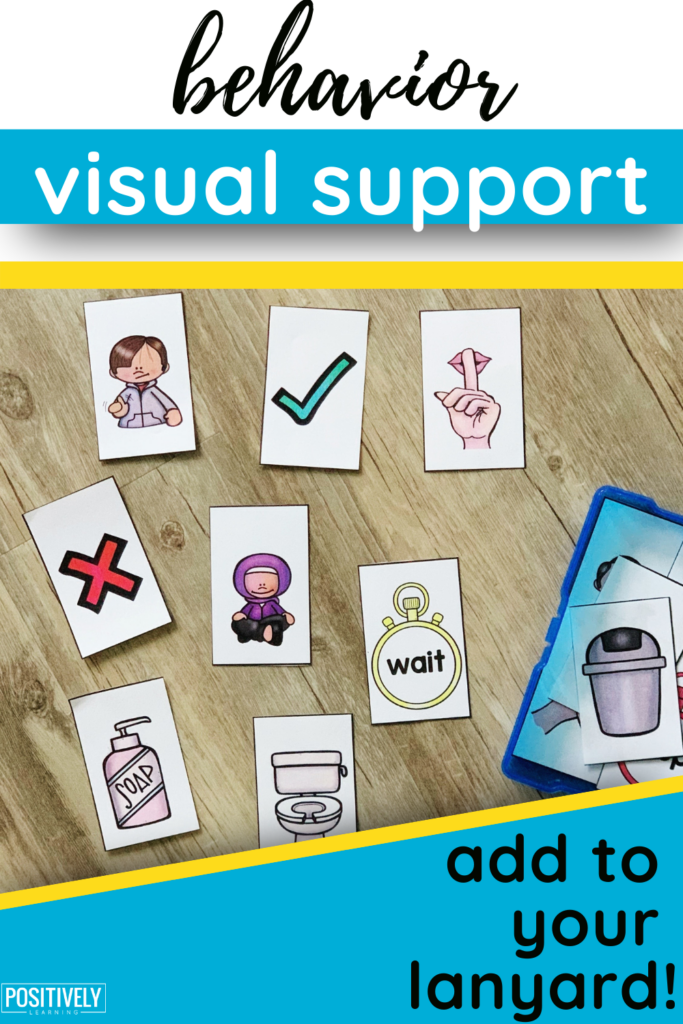 Which visuals do you use in your classroom?