It's testing week!
My first-graders are taking the Stanford-10 all this week. This is their first experience with standardized testing. As a special educator, I proctor in small groups. This morning I administered the Word Study and Word Reading assessments with the following accommodations:
verbatim reading
multiple & frequent breaks
reduced distractions
In the afternoon, I gave the same test to another group that had reduced distractions (a.k.a. small group setting), plus multiple and frequent breaks (no verbatim reading).
Throughout the verbatim testing, I can only repeat the directions one time IF a student asks. I have one group that benefits from hearing the directions as many times as possible, so last week I had the students practice raising their hand and asking if I could repeat (versus sitting there & not answering the question!). One student must have taken it to heart, because he raised his hand and asked after EVERY. SINGLE. QUESTION. The test took twice as long, but hopefully it was helpful to them! 🙂
Another student fell asleep and I had to wake her up 3 times! It's 86 degrees here with no air & I think the heat got the best of her! 4 more days to go!
What kind of accommodations (if any) do your students receive?
To celebrate the almost-end of testing, I posted a springtime freebie (read more about it from my post at
Classroom Freebies Too
!)…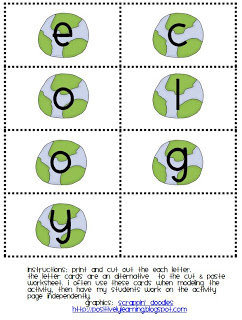 Click the 
here
to download this Earth Day Making Words freebie!
You may also want to hop over to
this blogpost
to snag another freebie for Earth Day!
Have a super teaching week!