Happy New Year!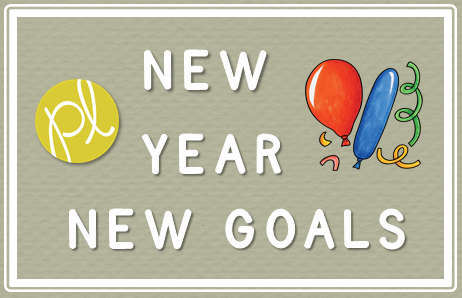 This post is all about the teaching goals I'm excited about as we kick off 2017, but first…
I'm SO happy (huge understatement) to be "back" after my blog decided it needed a little technical vacation 😉
If there's a time that it seems like I'm taking a break from blogging, I can assure you I'm not!
It's most likely a little tune-up beyond my expertise, but necessary in the long-run.
In the meantime, you can always find me sharing on Facebook, Pinterest, or Instagram (my favorite!).
I hope to see you there!
Here's a quick glance back to my preparations for the new year…
We spent a quiet and relaxing holiday in Florida! It was truly the best break and I have a camera roll of sunny pictures to help me power through the cold months ahead.
Of course I had to use a Florida picture as a backdrop to my "One Little Word" for 2017: Grace.
For anyone who has followed along on my journey through teaching, you may notice that "grace" is QUITE different from my usual…"hustle," "GO!" and "shine" (still love that one!).
This year has seen a lot of personal highs and lows with a ton of growth mixed in. I'm welcoming the new year with much more patience for myself and others and looking forward to what lies ahead. If you're familiar with "OLW" and have chosen one for the upcoming year, I'd love to hear it!
The last week of 2016, I also went through my rituals for heading back to school after a break: haircut, nails, oil change, and teeth cleaning. My physical and eye doctor appointments are scheduled during the summer. Does anyone else do this? I feel like teachers often struggle with keeping appointments throughout the school year, so prevention is the best way to go! I also schedule standing appointments for all of the above for the upcoming months. Is there anything I should add to the list?
Now moving forward…
I have to be careful not to add TOO many things to what I want to accomplish for the remainder of the school year.
Here are my big focus areas, plus what I'm working on behind the scenes: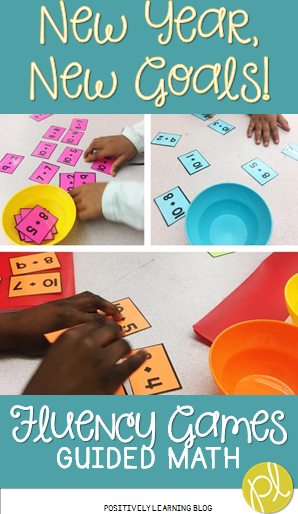 Teaching Goals for GUIDED MATH!
We use Eureka Math (Engage NY) in first grade and I'm very lucky to be able to co-teach and follow a Guided Math model. My role is to provide appropriate interventions with opportunities for pre-teaching and re-teaching depending on what data (and observation!) indicates. The areas I'm focusing on the most is fluency (applying skills, engaging in math talks, checking for understanding) and application (modeling, evaluating our work, more math talks). The general educator tackles the concept development and I provide any accommodations for completing the daily "problem set." It's BUSY, but it works! With this model, our first graders are immersed in math for 75 minutes – it's really exciting!
My professional math goal for the 2017 is to complete an inventory of fluency games…I've been working on this for about one year and getting close to finalizing the "best of" games. I'm also trying out various measures to record data DURING math small groups, similar to a running record in Guided Reading. This is a long-term goal 🙂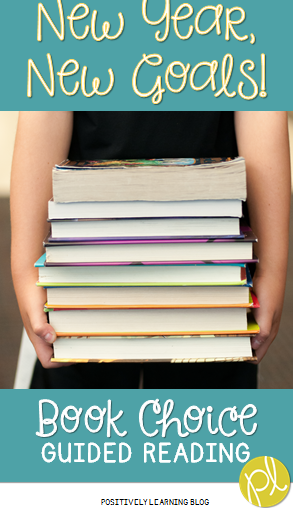 Teaching Goals for GUIDED READING!
Our school has been prioritizing Guided Reading practices this year which makes my teaching heart SO happy. As a special educator (and intervention), Guided Reading is my bread and butter! We now have 75 minutes for Guided Reading! That's HUGE! It's also at a premium time starting at 9:00 am five days per week. That's over six hours of Guided Reading every single week!
I feel much better about progress monitoring during our reading time and using the data to inform next steps. One big goal I have this year is fine-tuning my choice of materials. Sadly, I don't think Leveled Literacy Intervention is meeting all of my students' needs this year. I adore LLI, but it's just not hitting all the areas my students need. In the new year, I moving over to RAZ (Reading A-Z) and really prioritizing book choice.
This week, I attended professional development and we kept referring to choosing books wisely to drive what our "bottom line" is. In the past, I've always chosen books "holistically" – a nice balance of nonfiction and fiction with an eye on high interest topics and cultural relevance. I will continue to do this, but I also need to focus on book structure. In PD, we looked at the "power standards" for each level and then evaluated books on whether they provided opportunities to practice these skills. I was VERY surprised to see that many Guided Reading books did NOT. It doesn't mean these books are "bad," but it was eye-opening moving forward with choosing books that will really support my students' reading growth.
It was a huge lightbulb moment which I'm really happy about. Anything that will help my students!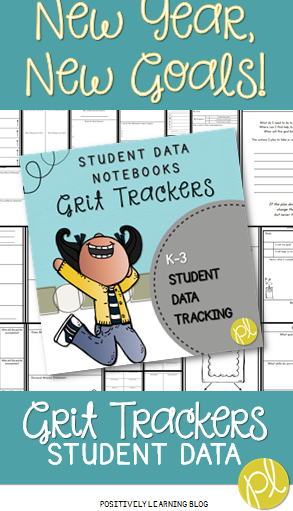 Teaching Goals for Student Data Tracking!
It's time! This week, I'll be rolling out our student data tracking using my Grit Trackers. I've incorporated a few individual pages previously, but this group is now ready for the whole enchilada! Here's a glimpse at everything included in this mega packet: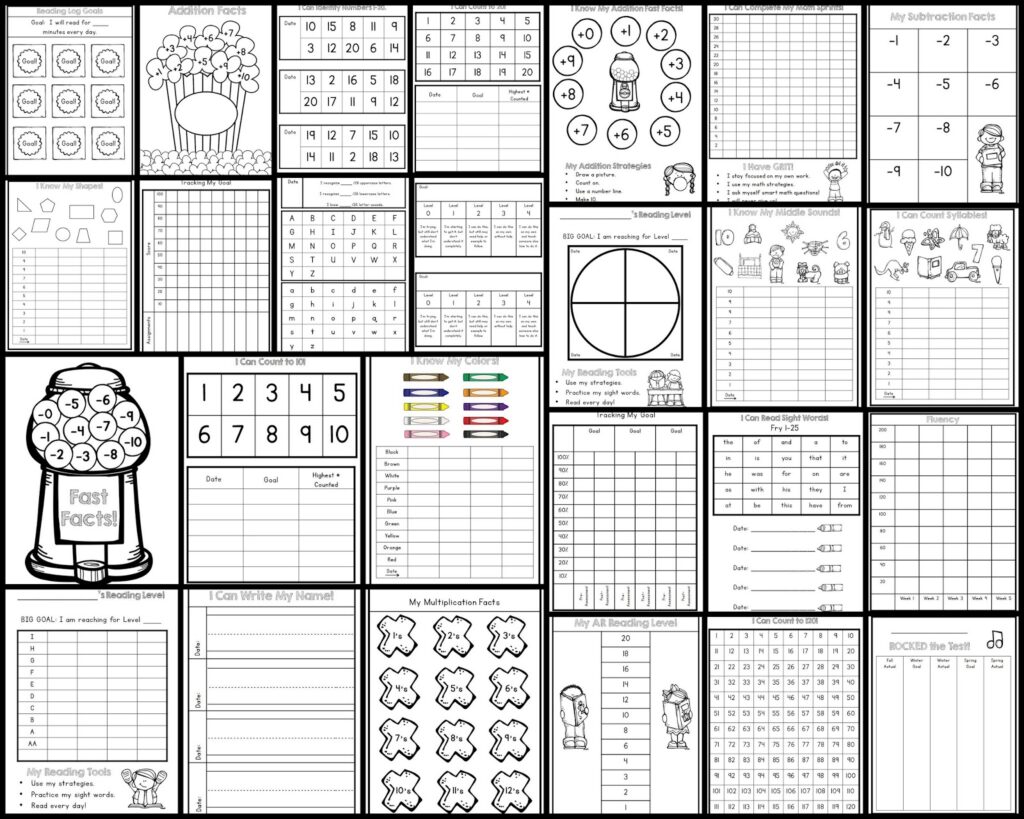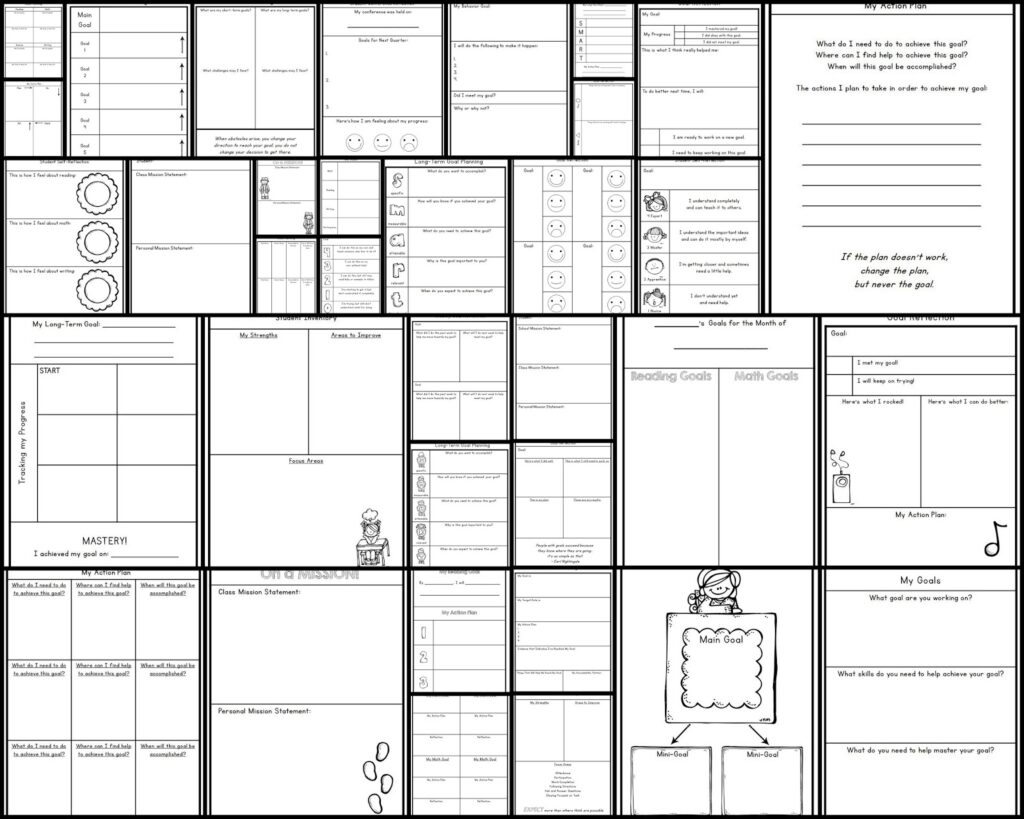 I also have a few other fun "projects" I'd like to accomplish with my group, including our new lending library (a blogpost all it's own), and a new approach to centers (wait 'til you see this!).
Thanks for reading! Please leave a comment to share your teaching goals for the new year and be sure to stop back to track our progress 🙂