Do you need new math activities to keep your students engaged during small group instruction?
In this blog post, we'll explore a variety of engaging small group instructional strategies that will help them develop their skills while they're having fun.
These math visuals can be also be used in math centers or as individual work throughout any given day.
If your students love sticky notes and thrive with hands-on math learning, these activities will provide a fun way to learn!
Sticky Note Number Sentences is a visual math tool we use every single year with math intervention small groups. It's designed for small group math instruction at the kindergarten and first grade grade level. These same math activities also serve as quick checks second grade students or warm-ups during whole group instruction.
Do your students ever get locked into thinking all number sentences indicate addition?
Or is that just my students?
MATH MYTH: "If there's an addition symbol, we MUST add – no matter what!"
You know what they say… if you see number sentences with addition symbols, chances are your student will think of adding too!
I've seen this happen time and again. Even though I always encourage my students not be afraid to defend themselves when someone challenges them on their math skills or beliefs, sometimes there's just no answer without some assistance.
This is when I reach for a little visual math help:
If you haven't experienced the joy of first graders using sticky notes, you really need to make that happen.
It's one of the most powerful visuals I have access to and I don't state that lightly!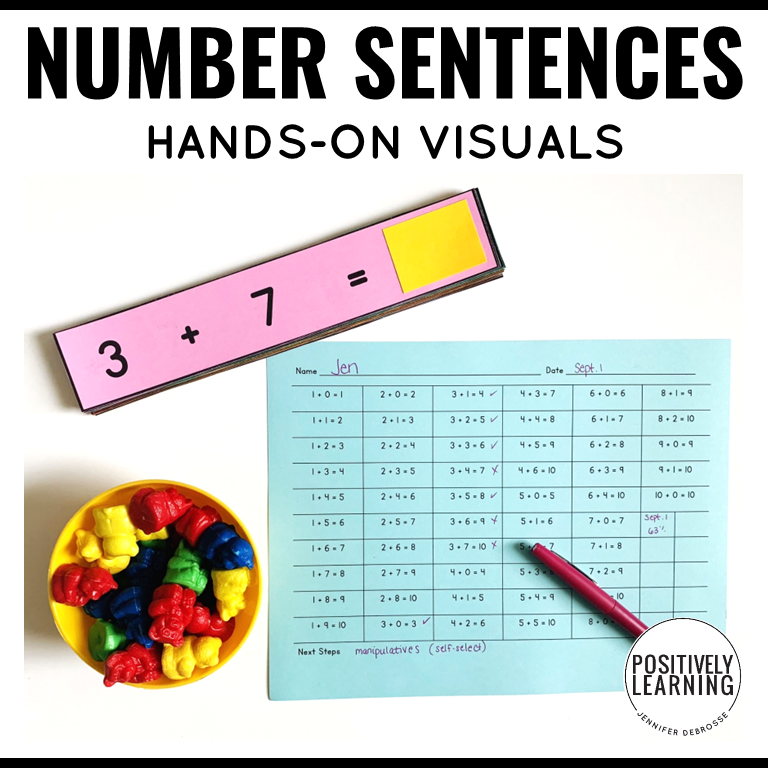 We used sticky notes to cover either the "part" or the "whole." My students see the sticky note MOVE to cover other parts (or whole, technically). Now we can prove that the addition sign does NOT always mean to join together. BOOM!
My students loved the idea of using sticky notes to cover either a part or whole. But then I realized that this technique also allows them an opportunity for creative thinking: light bulbs go off when they see how moving one sticky note elsewhere can prove something different than what you might expect!
The key to working with number sentences is understanding that they are not intended to be only viewed in isolation, but instead understanding that it's a part of a larger whole.
One more piece of math advice for working with number sentences:
Do you also sing the song "a part and a part makes a whole…" with your students? Not yet?
The tune is to Farmer in the Dell and can easily be reversed for decomposing: "a whole is a part and a part…"
Students point on their number sentences (with the sticky note in place) while they sing the lyrics. It also works well if you're working with number bonds!
It's so catchy that it will probably drive you a little crazy, however I do hear my friends singing it during independent practice! Yay!
Small Group Time – 4 Quick Math Tips
We all know how hard it can be to keep students engaged in mathematics. If your goal is for learners of any age (or level) understanding tough concepts like addition and subtraction through repetition without getting bored before they've fully ingested them, then these four tips could help get things moving again:
Incorporate fine motor skills while strengthening math facts
Use open-ended questions during your math mini lesson that allow room for student creativity
Find ways where deeper thinking comes naturally so kids will feel successful (hint: visuals are a great thing!)
Add math manipulatives! Not just for practice, but also for defending correct answers ("prove it!")
In summary, if you're working with a small group of students and searching for different ways to help math learning "stick," try out these new math lesson ideas!
Looking for different activities to add to you small math groups and lesson plans?
This intervention math kit features more hands-on math center ideas for young children. Add them to your direct instruction during small group lessons, or include them in your math games for the whole class:
The visuals and task cards from this intervention kit were a huge hit in our Guided Math inclusion setting. The next step is to move them into independent centers so the kids can get reinforced for their work!
What's your favorite way to teach new skills during your math block?