Today is my last day of summer break!
Tomorrow kicks off two weeks of Professional Development before our students arrive!
Yes, two weeks! In this post, I'm sharing a few tips I use to get myself psyched and ready.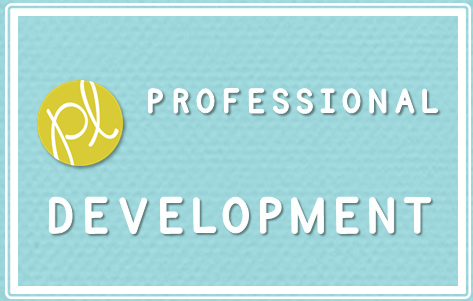 I'm quite the geek, so I actually am pretty excited and I know I'll have trouble sleeping tonight, haha.
I resisted going into my classroom this summer, but I did spend a lot of time thinking about it! I also did quite a bit of shopping and had everything shipped to school. I'm a bit nervous for the stack of boxes waiting for me! Breakfast, lunch, and dinner hours for the next two weeks will be spent cleaning, painting, and setting up my resource room.
All of these things will be on my mind while I'm sitting in training and I'm going to have to use effort to stay focused so I can get the most out of it.
Here's my Professional Development Survival Tips:

We do this for our students each and every lesson and I feel we should also be doing it for our own learning. I find setting a purpose for each session helps me stay focused and keeps me from feeling either overwhelmed or bored and fidgety.
I always have 3-5 goals for the upcoming school year…I'd really LOVE to try out about 15+ new ideas, but have learned the hard way that it just can't all be accomplished at the same time.
Here are my goals from last school year:
This year, I've set new goals I hope to add to my teaching repertoire:
As I sit through training this year, I'll have these areas of focus in mind so I can synthesize ALL the information we'll be receiving through these filters.

So, what if you've tried this, but the PD is just not everything you hoped for? 😉
Unfortunately it happens, although my school works very hard to differentiate professional development to meet all of our needs. Two years ago, I attended an out-of-town conference where most of the presenters seemed to be doctoral candidates who quite possibly had never worked with children. It was difficult and I was feeling pretty frustrated with the research being presented (great statistics, but no actionable steps).
How did I cope? I knew I was going to be presenting nationally in front of 200 people in about two months after this conference and I already getting nervous (understatement!). Since I wasn't in too much danger of missing any helpful information from this conference, I started focusing on presentation style. By the end of these sessions, I had several pages of observation notes on what to do, what not do, and how to connect better with an audience. NOT ideal, but much better than just feeling frustrated. It really helped me stay focused and not just pass the time doodling.
However, if doodling DOES make you stay alert… check out this awesome new packet by Cara Taylor:
Those are the tricks I've used with success every year. I'm going to be trying one new strategy this year and I'll stop back to share how it goes!
I will be taking on acting as a "coach" to a few new teachers this year and feel really excited about the opportunity! I have a little experience in this area and have been looking for ways to contribute to a positive school culture. I'm going to be able to attend additional training for this and will hopefully be able to share more soon.
I know that this new opportunity is definitely going to push me to focus through some of the more "review" sessions we'll be participating in this summer. I'm going to try to using the lens of a new teacher as I listen in order to gather up some helpful points that will support future conversations in this capacity. I'll report back and let you know how this goes!
What tips do you find helpful! Please leave a comment and share 🙂