Description
Secret Code: CVC Words – Can you crack the Secret Code?
This set of 30 digital task cards focuses on CVC (consonant-short vowel-consonant) words like cat and rug.
Students will crack the code by using naming the picture clues and isolating the initial sound. Be careful – there are three choices for every card and many contain "tricks" with similar word spellings.
Secret Code with CVC Words: 30 CVC words – Short A, E, I, O, and U
Every digital task card is SELF-CHECKING!
Differentiate with my other Secret Code Phonics Task Cards:
Secret Code CVCe Words (words with long vowel sounds spelled with final E)
Secret Code CCVC/CVCC Words (4-letter words with initial or final blends)
These cards can be played on ANY digital device that uses an internet connection.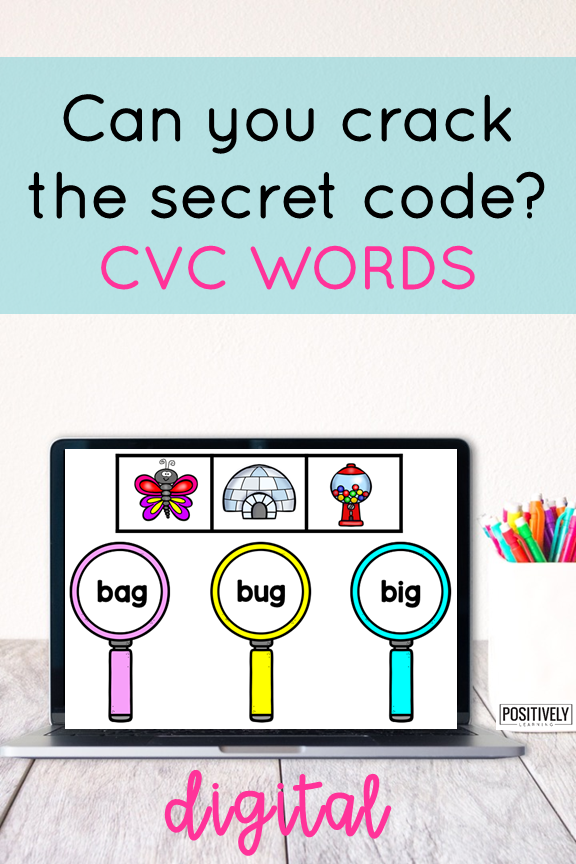 Copyright © Positively Learning. All rights reserved by author. This product is to be used by the original downloader only. Copying for more than one user is prohibited. This product may not be distributed or displayed digitally for public view. Failure to comply is a copyright infringement and a violation of the Digital Millennium Copyright Act (DMCA). Clipart and elements found in this PDF are copyrighted and cannot be extracted and used outside of this file without permission or license. See product file for clip-art and font credits.