Day Four of
Blog Hoppin
's week long linky is "New Ideas."
Every year I pick new priorities I want to focus on.
It usually targets an area of growth, both for my students
and myself as an educator:
Year 1 – survive
Year 2 – survive and begin returning
phone calls to lost aquaintances
Year 3 – sharpen data collecting
Year 4 – figure out how to use all that
data!
and so on…
This past summer I researched different ways to help my firsties foster independence. I set up "Brain Binders" based on Reagan Tunstall's amazing
Rise and Shine Binder
(I highly recommend it!). My students love having their own binder and I really dig the fact that the binder is serving as a portfolio of all their work! I adjusted a few of Reagan's pages to match my students' IEP objectives and I added a new cover because my students will access these binders all day long (versus during morning work):
Another idea I just started and so far loving is "Assign Yourself" independent math bags. I teach a small math group and we were working well together tackling the general education curriculum. Then a couple weeks ago…BAM!…one of my little guys just took off! Major light bulb moment and he hasn't looked back since! I'm so excited for him! It became necessary to differentiate our already small group even more. I decided on Guided Math (and Reagan uses it, too, lol!) and trying to wait patiently until Friday when all of these arrive: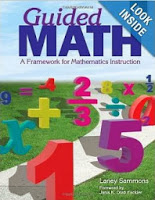 Darn Amazon for those "Frequently Bought Together" options!
Because my students will not be physically moving away from the table to go to a math work station, I created these independent bags called "Assign Yourself."
I found these wonderful canvas bags that came with an old F&P kit (free!). They come in bright colors and have a little plastic nameplate for the tag above. My students absolutely adore them!
They are simply filled with hands-on activities (i.e: task cards, matching card sets, manipulatives) that feature spiral review and/or fluency (a big concern for my friends). I used a dry erase crayon (doesn't rub off as easily) to write answers on the back. They have all solemnly sworn not to peek.
Our math lesson has Modeling, Guided Practice, and then Independent Practice (with me observing and checking in with individual students at the table). After the independent practice "Problem Set" is complete, the student may get their bag and choose their activity (there's usually 2-3). These activities are often also more "fun," like the holiday number bonds
(
click here
to see more and grab your free turkey set!).
How do you foster independence with your students? I'm always looking for purposeful activities that are engaging, yet also maximizing precious learning time.
Have a wonderful Thursday!

2,892 total views, 2 views today
Join the newsletter
Subscribe to get over 150 pages of sight word practice- free!
Looking for more free literacy printables? Please follow this link: http://bit.ly/2nqkxC5