This post features favorite activities to celebrate the legacy of Martin Luther King, Jr.
I look forward to this week every year!
I'm not sure what background knowledge your students bring to this important topic, but my first graders always have a lot of question and A LOT to share!
It is both heartwarming and heartbreaking to hear these six year olds share their interpretation of what equality looks like and feels like to them, as well as their hopes and fears for the future. This is the week that we seem to take "turn and talk" to a whole new level and many lightbulb moments go off for my students who are fascinated to learn more about the civil rights movement.
One huge takeaway I experienced both this year and in years past: my students cannot believe the events from Martin Luther King, Jr. happened fifty years ago…they are convinced this is a current event. And as I listen to their thoughts, I really can't blame them.
We kicked off this week with these two interactive read alouds (affiliate links):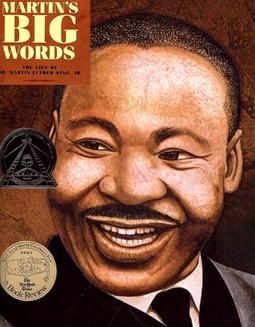 Martin's Big Words: The Life of Dr. Martin Luther King, Jr.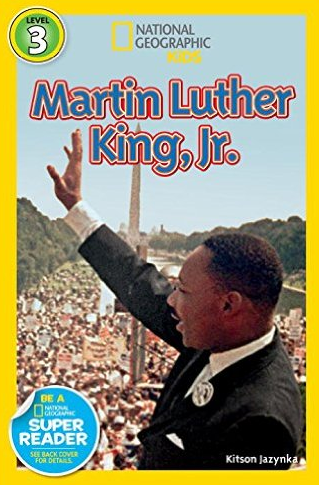 National Geographic Readers: Martin Luther King, Jr. (Readers Bios)
There are endless ideas to celebrate Martin Luther King, Jr. for the classroom and I'm sharing a few in a throwback post below. I feel the most important activity though is to follow the children's lead… helping them make sense (at least the best we can) of the events and understand their role in shaping the future. Their words are powerful and they do have the opportunity to bring changes when they feel they need to stand up for what's right for themselves and others around them. Such a powerful message!
Here's the post from last year…please be sure to read through the end!
Happy Frozen Friday!
We all have the day OFF here in the Mid-Atlantic in preparation for the impending blizzard!
If you're in the path of this mega-storm, please stay safe and warm!
It was a great week, but WAY too short. We only had two teaching days.
We spent Tuesday celebrating the life of…
My students walked into Guided Reading and saw this: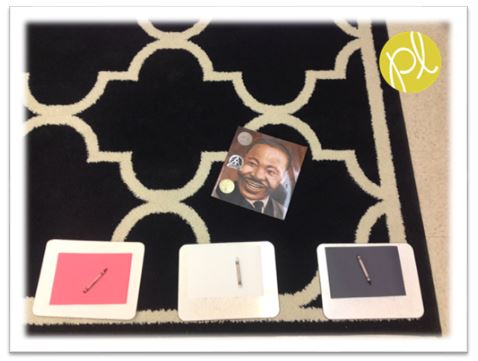 I found this idea from Herding Kats in Kindergarten (♥)
The link will take you directly to her lesson idea, but I hope you also treat yourself to reading more of her blog. So refreshing and TONS of great ideas.
I had the red, white, and black paper set up in an alternating pattern with the coordinating crayons. My students were instructed to have a seat and draw while I read Martin's Big Words. It was interesting to watch them avoid the white paper option at first! Three students (the last to sit down) had to use white and didn't look to thrilled about it. One immediately got flustered ("But, I can't see anything!"). I simply continued reading, stopping to say "please keep drawing while you're listening." Another student with the white paper was looking around at his teammates a bit puzzled, but didn't say anything. Finally, two big-hearted souls took it upon themselves to offer up their red & black crayons as a trade for the white crayon…and then more trading began occurring around the carpet.
. I was one happy teacher! You should have seen the smiles of pride when we made the connection to what they did (helped find a solution to someone in need) to Martin Luther King's life.
Did I mention that this was a wonderful group of six-year olds who I provide special education services to?
Next, I brought out these…
I thought this was going to be the climax of the lesson, but they seemed FREAKED out by the eggs. What?!? We made our predictions (11/12 said the insides would be different) and then I cracked the first egg. They SCREAMED. I gave them plenty of notice that I was going to crack the next egg and there would be no screaming. They nodded in agreement. I cracked the 2nd egg. They SCREAMED even louder! The lesson quickly lost its impact after all that excitement 😉
My firsties had been at the carpet just a tad too long and things were unraveling a bit. We are still knee-deep in testing (reading levels), so instead of stations, I had them work on this art project. It was a special "treat" since we often don't have time for anything crafty.  Following directions was not deemed a high priority for this group on this particular day, so I collected their completed pictures and didn't think much about it.
Later that night at home, I set up the collage just for kicks.
This is what it looked like: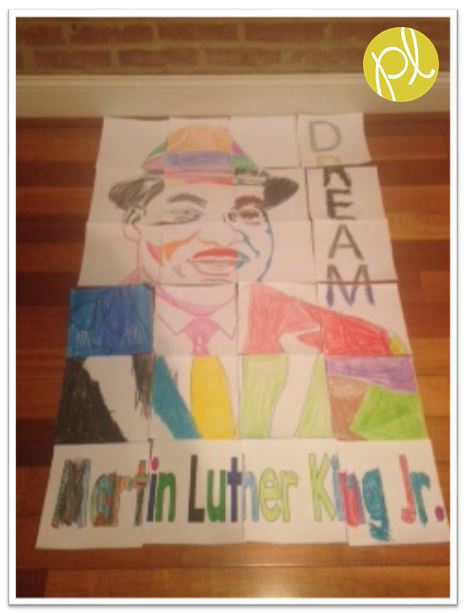 ♥ ♥ ♥
If you know what this was "supposed" to look like, you may not recognize this project, but I couldn't love it anymore! It makes me smile…even the big blue square on the left from my extra spunky friend! I will definitely be seeking out more projects from Art with Jenny K!
I have more to share, but for now I need to get back to my portfolio that's due in 46 days! This weekend will be all about writing, documenting, coffee-drinking, snow-shoveling, and this: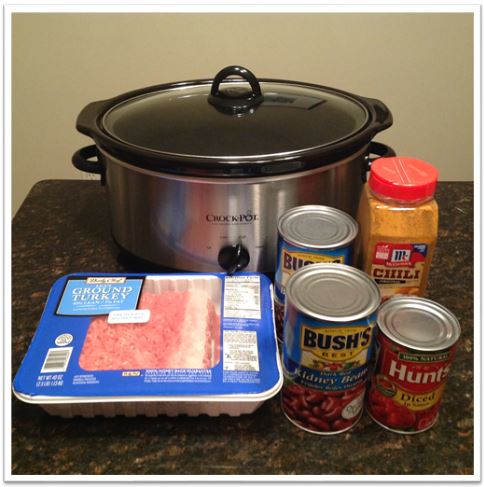 YUM!
Back to 2017…
We are doing many of those activities this week (thankfully not repeating the blizzard OR my portfolio ;)) and adding a few new projects.
Check out this freebie from Erin Waters at Beyond the Beanstalk! I can't display our final bulletin board with all my students' pictures, but here's a recap of their dreams ♥: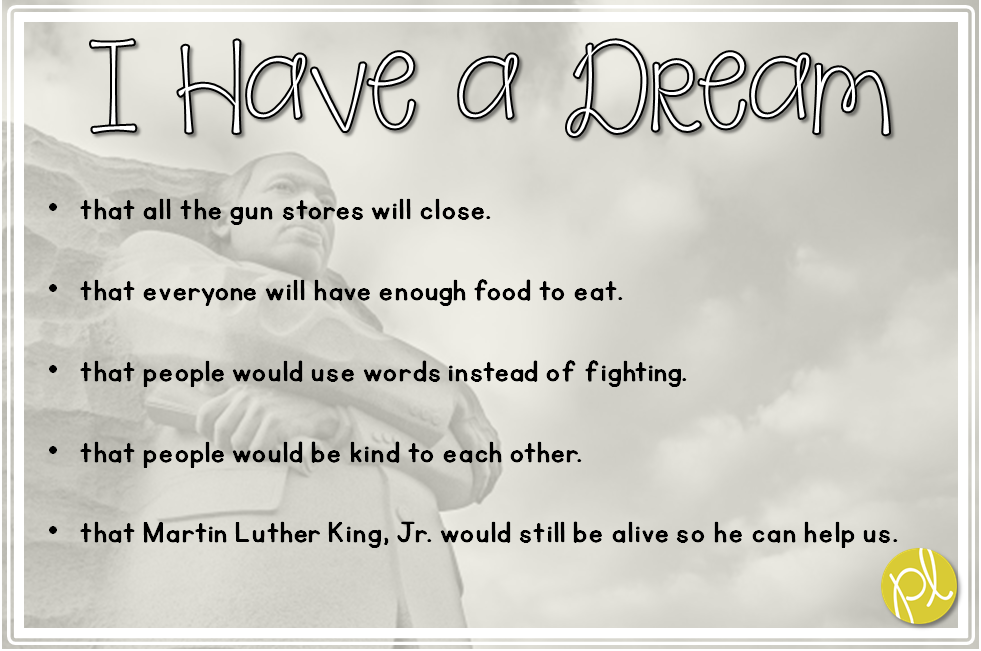 Here's a collection of  ideas to help celebrate Martin Luther King, Jr. in your classroom: Let Freedom Ring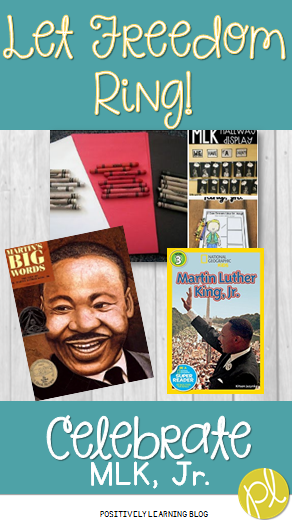 I also always share this very quick video clip from our friend Kid President! It's not intended as informative, but more as a pep talk 🙂
Thank you for reading!
1,776 total views, 1 views today
Join the newsletter
Subscribe to get over 150 pages of sight word practice- free!
Looking for more free literacy printables? Please follow this link: http://bit.ly/2nqkxC5