Has anyone read this?
I read it last summer and loved it!
And by "read," I mean I listened to the audiobook while working out 🙂
It's an enjoyable book with quick takeaways. I think even our youngest students could easily relate to "eating the biggest, ugliest frog" on our to-do lists first. It feels so good to get those largest tasks over and done with!
We still have 15 or so days of school. I really don't do countdowns because of the massive amount of testing and paperwork that needs to be completed before the last day. Special Education paperwork is no joke!
This week I was the master of denial and procrastination. I usually get up early and get a couple hours of work in before school, teach, and then wrap up with a hour or two after school. This week I literally "played" with
this
(check out #1) after school instead of working. It was the equivalent of 6-8 hours off, but I really needed the mental break! This weekend I'm totally paying for it!
Today (Saturday) will be all about the "frogs" relating to paperwork. I created these lists to help stay on track:
Next, grab your favorite pens and list all those frogs you want to accomplish.
 Here's my list (just for today!):
I also need to add to today's list: hip hop spin, hair appointment, and dinner with friends ♥
And speaking of planning and To Do lists, I'm linking up with Mrs. Jump's Class to share my Top 10 for this summer!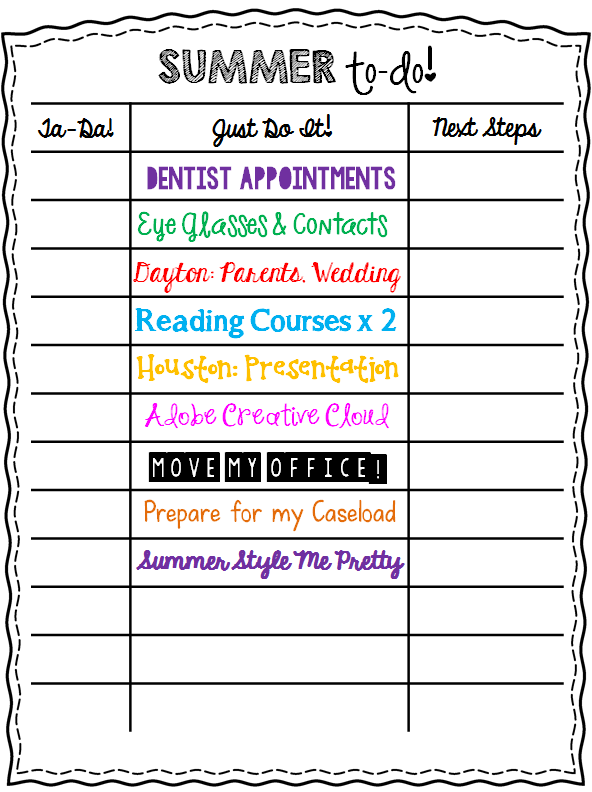 This list is supposed to be the 10 things I "want" to do, but as you can see "dentist" is probably not considered a "want." Here's some background information… my summer break is only 36 days long. Our last day is June 17th and we return July 23rd! While I'm so thankful for every single day off, there's a lot of "have-to's" I need to accomplish before next school year starts!
Dentist – I have an entire series of appointments lined up to get veneers on my top teeth! I'm actually super-psyched about this! Ten years ago I chipped my front tooth badly and I've had bonding repeatedly put on for repair. I'm self-conscious of the bonding because I think it looks like a piece of plaque on my tooth 🙁 I'm really excited to finally get this fixed so I can smile widely again 🙂
Eyeglasses & Contacts – Again, not terribly exciting, but necessary and hard to find time to do during the busy school year. I always pick out 2 pairs of glasses…my typical geek kind and a fun pair. I'm inspired by Erin Condren's pastel glasses and thinking of getting a pair of white frames!
Dayton – I'll be visiting my hometown to attend a wedding and spend time with family. It will be a short,  but very sweet visit ♥
Reading Courses – I have to take a reading certification class courtesy of the State of Maryland (well, they will reimburse me in about a year!). Super exciting (not) because I swear I've taken this class before. Twice. I'm sure you all have, too! Processes and Acquisition of Reading. That's a sophomore class, right? Great news though…it's online and last time I took it, I got a 100%! The other class is the complete opposite – it's a Text Complexity/Close Reading course I have the opportunity to take through KIPP with one of our assistant principals (who is extraordinarily talented!). I'm completely intimidated by this! It starts at the end of July and runs through December. Then we will present it to our staff (!!!). I hope everyone realizes I'm going to be looking at text complexity through K-1 Special Education lenses. Can you tell I'm nervous about this?
Houston – I'll be in Houston for an entire week to attend the above reading course kick-off and the KIPP School Summit. I'm also presenting there on Wednesday July 30th. Just typing those words made me feel faint!
Adobe Creative Cloud – I just got this and would love to spend ALL my time playing and learning from tutorials. It's been a lot of fun already and I haven't even scratched the surface!
Move my Office – I'm definitely getting a new office-mate for next year and there's a slight chance I'll be able to move my office space. I just learned about this yesterday! It would be incredibly exciting because it will reduce all my materials from being in four places down to only three. Plus this new office space is on the first grade hall where my classrooms are. I really hope this happens!
Prepare for my Caseload – I'm already thinking and learning about the rising kindergarteners I'll be working with next year. They have an amazing special educator who's literally counseling me and preparing for the transition. This caseload is very special and I'm really excited to work with them! I'll also have a student intern, at least one para-educator, and will continue to be a Teacher Development Leader. Whoa!
Summer Style Me Pretty Challenge – Please visit me Monday May 26th to hear ALL about this!
I listed 9, not 10, things, but 9 is really enough!
Best of luck eating all of your frogs this weekend!
1,343 total views, 1 views today
Join the newsletter
Subscribe to get over 150 pages of sight word practice- free!
Looking for more free literacy printables? Please follow this link: http://bit.ly/2nqkxC5