Dinosaurs seem to be high on kindergarten and first graders' lists and I don't think that's going to be changing anytime soon. Luckily, there are plenty of creative learning activities featuring dinosaurs (and friends)!
Here's a peek at how we explored dinosaurs in the resource room setting:
Dinosaur Books
Of course, we always start with picture books!
Here are a few of our favorite dinosaur read alouds (affiliate links):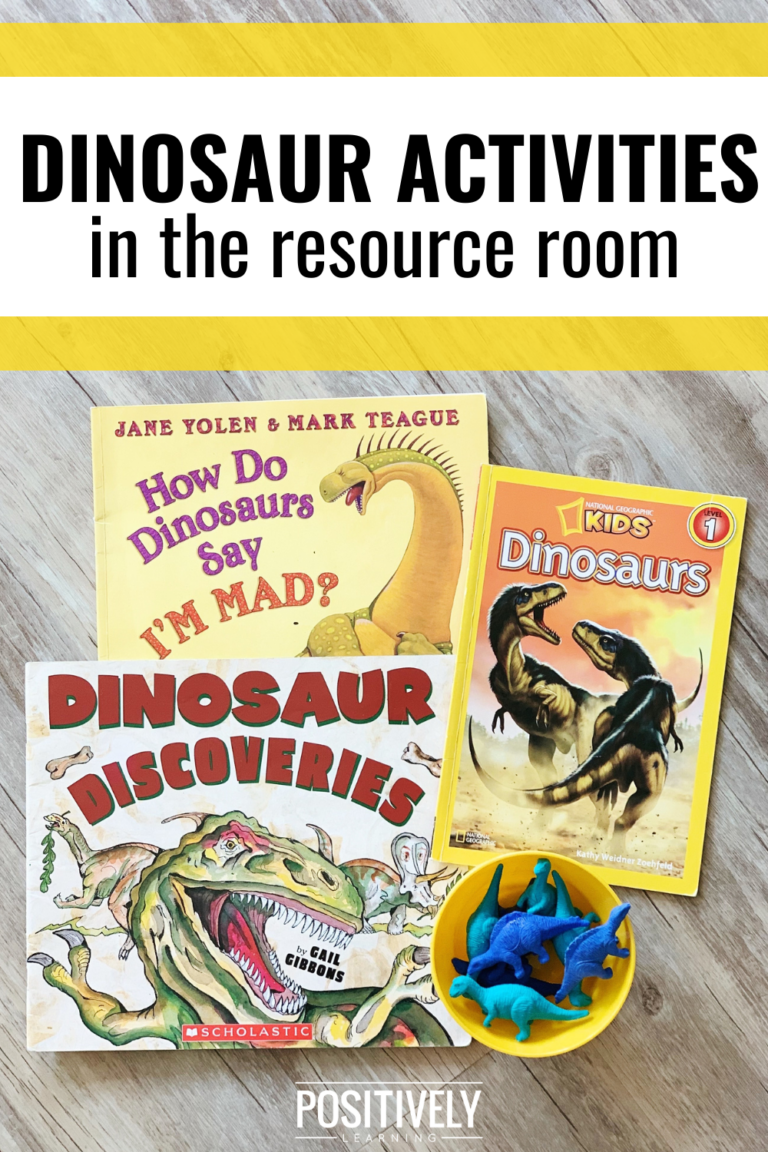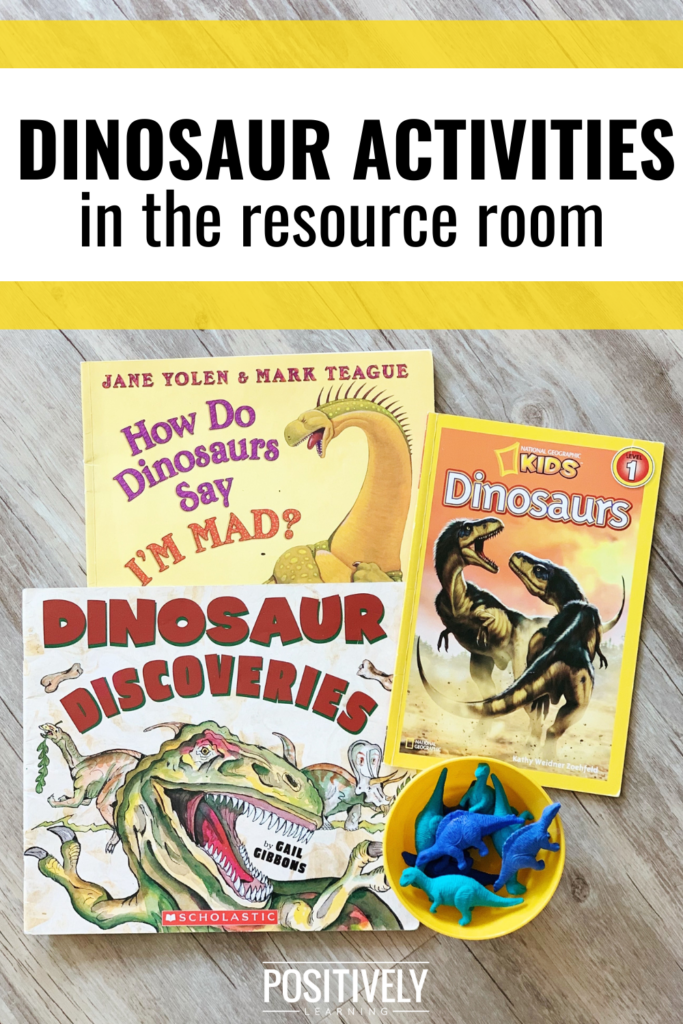 Dinosaur Discoveries by Gail Gibbons
Student favorite to LOOK at, but it's so full of details and facts that you'll want to plan several sittings if you'll be reading this book aloud.
National Geographic for Kids: Dinosaurs
We LOVED having all the National Geographic books in our resource room library
How Do Dinosaurs Say I'm Mad by Jane Yolen and Mark Teague
Of course, we NEVER miss an opportunity for social emotional learning 💛
Dinosaur Sensory Play
One year, I was working with a group of all boys with autism. Sensory bins were such a GREAT way to meet everyone's needs. This dinosaur themed bin is based on the story vocabulary and sight words from How Do Dinosaurs Say I'm Mad:
Click on any of the pictures above for a closer look!
There are so many fun sensory items that match the dinosaur theme, from shredded paper to moss (from craft store), rocks and pebbles, plus dinosaur figures!
My autism small group was REALLY into the theme all week, so I wanted the sensory bin to have even more hands-on play opportunities:
Dinosaur eggs! (AKA: "baked" cotton balls)
You must be thinking, what in the world? And I totally get that.
It was a bit of a mess to make (at home), but a HUGE success with my students and 100% worth it.
To make the "eggs," simply combine 1 tablespoon of flour with water and food coloring. I sprinkled in a little powdered ginger to add a scent (olfactory), but it didn't really add much. I'd probably skip that next time.
After mixing up the flour with water and dye, "paint" each cotton ball. If you can stand the mess, it's much faster to dip the cotton ball in the mixture.
Transfer the painted cotton balls to a foil pan (or cookie sheet you don't like that much) and bake at 300 degrees for about forty minutes.
The result will be a semi-hard shell that may have a few cracks with cotton showing through. Students won't be able to keep themselves squeezing and pulling the eggs apart. Which is actually a bit gruesome when you think about it.
Dinosaur Literacy
We continued celebrating dinosaur week in our literacy centers with more task cards and sorting mats (from the dinosaur sensory bin) and writing in our journals.
This visual word bank is in the Writing Lists set:
That's a lot to choose from! Which dinosaur activities will you try in your classroom?