I'm such a huge, huge fan of
Blog Hoppin'
and thrilled to be joining their week-long linky party! Today's topic is
Helpful Hints
.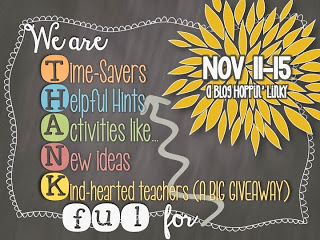 I feel like I strayed a bit yesterday with "
Time Savers
." I went on and on about food preparation…maybe I was just super hungry at the time! Today, I'm bringing it back to teaching to share the
most. amazing. resource. EVER:
The Together Teacher
is a total game-changer (which is a pretty bold statement for someone who's been teaching forever!). If you clicked on the link already, you'll see that Maia has a blog, too!
It's equally amazing!
I'm a tad of an organizing freak enthusiast and this book still helped me tremendously. I can only handle reading a few pages at a time because there's SO much information. It comes with a DVD with templates, but I ♥ my fonts, so I had fun creating a few pages for my own planner. Here's a peek at my weekly worksheet:
It's still a work in progress! I also used pages from my black and white
Orderly Teacher
set and assembled it in a planner I found from Target. Add a pack (or 2) of colorful flair pens (♥) and I'm set!
Here's another page I created and keep in my planner. I copied it double-sided and find it so useful for those "quick checks" throughout the day:
Have a wonderful Tuesday!
Our firsties are off to the National Aquarium today!
Prayers welcome 🙂

3,672 total views, 3 views today
Join the newsletter
Subscribe to get over 150 pages of sight word practice- free!
Looking for more free literacy printables? Please follow this link: http://bit.ly/2nqkxC5