Welcome to the last full week before Thanksgiving break!
What is the holiday schedule at your school? We have regular hours all this week and then parent-teacher conferences (no students) next Monday-Wednesday.
As a special educator, I will sit in on several conferences either to assure parents their child is doing well, offer suggestions and/or resources, or have a conversation discussing next steps.
We also have a few scheduled staff meetings and possibly some work time (fingers crossed!). We are allowed to leave on Wednesday at 12:00 pm.
Does this sound similar to your schedule?
The week of conferences is a lot of fun. We have an all-staff potluck one of the days, I'm blasting Christmas Pandora while I'm typing, and there's a festive feel in the building all week. I don't mind being there at all…and it so nice to leave for Thanksgiving break feeling accomplished!
Lately I've been sharing off and on about my school year and people have been so kind in response. Just this past week, I've sort of come out of the fog I've been in and able to reassess the situation. Previously, I think I was in denial and then almost in mourning for what my former professional life looked like!
This probably sounds a tad over-dramatic, but for whatever reason, it's been rough! Now I think a "new normal" is finally starting to form (it's about time!) and I'm ready to start making lemonade 🙂
Here's what I'm starting to feel better about now:
Behavior is slowly coming around! Before this school year, I felt that I had decent behavior skills…I don't fall into power struggles, I can calmly state replacement behaviors, etc. I just haven't had to use these skills too much. Until this year.
I'm now (somewhat) happy to report that my behavior management is being tested and perfected this school year! The "testing" hasn't been loads of fun, but I'm facing it head on and feeling much more confident. There are scenes that may make an educator cringe and I can honestly say to myself:
"Oh, that's nothing!"
I'm also feeling much more confident with data tracking regarding behavior, completing Functional Behavior Assessments, observations,etc. I've been trying a lot of different resources and starting to see what sticks. If you search "behavior" on this blog, you'll see tons of charts and trackers.
Here's a peek at a recent one:
Last year, I was using
Grit Trackers
with my students to track academic progress. This year, I'm adding the element of self-monitoring behavior. Can a six-year old do this effectively?
I can now confidently state "YES!"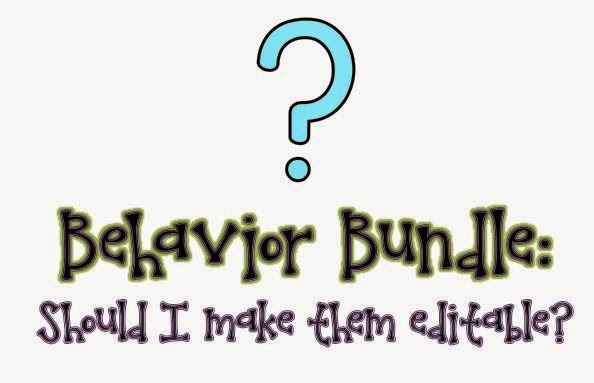 I'm almost ready to gather up all the resources I've created and implemented. I'm hoping to make a bundle…and it makes sense to have them editable. I've found that customizing behavior charts is key . What do you think? What would you like to see in this bundle?
So now I'm looking ahead…I feel ready to say "SO LONG!" to 2014 and I'm feeling much more excited about kicking off 2015 using all that I've learned. Anyone else? What new areas have you tackled so far this school year? Please share 🙂
I'll post soon about other areas I've been working on…managing 1:1 (student aides), sensory boxes, language development, social stories for students with autism, using apps for communication, and differentiated homework!
The behavior chart freebie is linked up with:
Enjoy your weekend!

2,017 total views, 2 views today
Join the newsletter
Subscribe to get over 150 pages of sight word practice- free!
Looking for more free literacy printables? Please follow this link: http://bit.ly/2nqkxC5