Have you ever wondered what a Special Educator does?
What? You haven't? 😉
This blogpost captures a "Day in the Life" of my typical teaching day as a special education teacher working in an urban elementary school.
Today is Wednesday February 15 and I woke up at 3:00 am. No alarm necessary…it just happens.
Early morning is my best "thinking" time, so I've learned through trial and error to follow a strict wake-up routine before tackling the projects I'm working on … I try to stick to it in order to maximize time. Here's a quick list of tasks I do right when I wake up: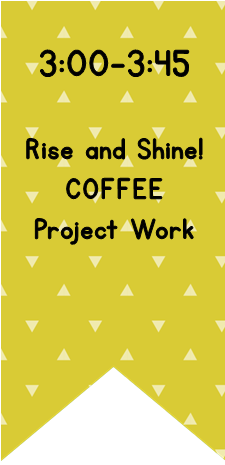 I have learned to NOT check email…I tend to get caught up in trying to put out a fire from the day before EXCEPT that I really can't respond to at 3:00 am 😉 so I've learned to not even check. I do, however, scan notifications on my phone. I can quickly see calendar appointments (my school is synced up, so calendar invites are automatically added), social media (I appreciate the notifications so don't actually log into my accounts), and anything associated with my Teachers Pay Teachers store.
This morning, a buyer has asked me a question on my store page. There is trouble downloading a file, so I need to put in some time to research the help files from TPT and respond to the buyer. But first, COFFEE!
Mr. D and I have worked out a system to support our serious coffee habit…we have a timer for fresh coffee to be ready by the time HE wakes up at 3:45. This means I'm drinking iced coffee until then. We keep an always-full container of iced coffee for such "emergencies." On a typical day, like today, I drink one glass while selecting the project I'm going to focus on.
After attending to my buyer's question,  I select 2 projects to work on…
I started this blogpost. I typically write directly into the post on my dashboard and then go back and edit. It usually takes me two days to publish a new blogpost.
I'm putting the finishing touches on my NWEA Math slides – I've been working on this project for over two years! There's 300 questions and I currently have 327, lol. I'm in the editing stages to make sure the RIT bands are aligned and choose which slides aren't going to make the cut. This morning I finalized 14 more slides. I'm getting there slowly, but surely!
At 3:45, Mr. D wakes up and we spend about 10 minutes chatting and sipping coffee. Then I'm out the door for a QUICK gym visit and the rest of my before-school routine: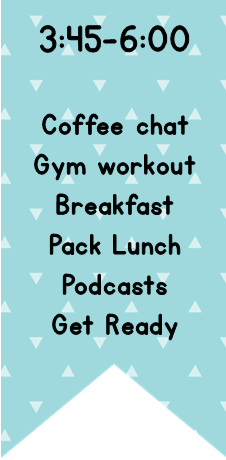 I leave the house at 6:00 to arrive at work before 6:30.  Our students can have breakfast at 7:05 and arrive in the classroom at 7:35 am. Staff cannot enter the school before 6:30 and it feels like a race to get everything accomplished before my arrival post.
When I arrive at work, I follow this routine:
At 7:35, I step into my arrival post: greeting the 160 first graders as they arrive from the breakfast and go to their lockers. Today this includes calming down students from 3 different incidents that occurred in the cafeteria.
As students settle in, I hang out in Mrs. G's classroom. She is my co-teacher of 5 years (and hopefully at least 5 more!) and we teach Guided Math together starting at 7:50. We have 28 first graders divided into three groups.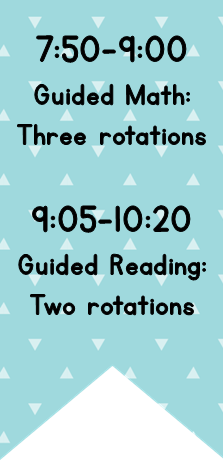 I LOVE our morning teaching routine! Mrs. G and I teach math using a Guided Math rotation model (read more here). We have 70 minutes, but today is a bit different…Mrs. G has her formal observation during our math content block. This makes me a tad bit nervous even though it's not my observation! But I adore our assistant principal AND she's a math guru, so I'm happy to have her here.
At 9:00, I dash into my resource room to make sure everything is ready for my upcoming reading groups. At 9:05, I collect ten students from two classrooms for 75 minutes of Guided Reading.  I return the students to their classrooms at 10:20 to prepare for recess, then lunch. I'll have to do a follow-up post to share more about what we do during each content block!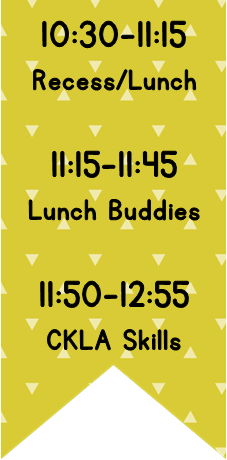 Today was indoor recess – not good for students, but I can usually squeeze out an extra five minutes of my own worktime when we have indoor recess. Today during lunch, I finish one IEP, lay out materials for my afternoon class, make copies, and check email. How does the time go by so fast?
My own lunch is usually just a quick snack, like a cheese stick or almonds. I eat a big breakfast and dinner at home because lunchtime at school flies by and I often forget to eat.
At 11:15, I support students moving in the hallway to lunch (remember there's 160 first graders!). It takes awhile because kindergarten classes are also moving through the same hallway (now we're up to 300+ students) and middle school students are moving out of the cafeteria (300+ more students). Yup, that's 600+ students in the same area!
I usually get about 5 minutes to chat at the lunch table with my students while I'm waiting for my lunch buddy. I work with a student on literacy goals for approximately 20 minutes every day during lunch. We wrap up at 11:45 and transition back to our classrooms to get ready for CKLA Skills.
At 11:50, I collect 10 students from their classrooms to work on ELA for the next hour…we follow a rotation similar to our morning routine. This class is often rambunctious after lunch and today we had to stop several times to review expectations.
We use Class Dojo with mixed results. Several of my students have made strong connections to our positive point system, but a few others have been struggling. Today was a typical day and we dealt with 2 disruptive tantrums during this afternoon block. My other students do a great job of ignoring these outbursts, but it still can be a struggle. I'm constantly thinking of solutions to increase positive behavior and productive learning time. I dropped my students off at 12:55 and briefly touched base with Mrs. G about our class.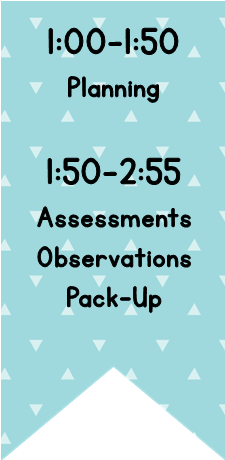 Between 1:00 and 2:55, I have time set aside for planning (45 minutes) and assessments/observations. Once a month, I do a series of observations for my role as a mentor. These typically take about one hour total. Today, I didn't have any so I was able to collect students for assessments (testing accommodations). I'm thrilled to have this time so I don't have to take away from instruction for testing. I've never had this allotted time before and I doubt I'll have it in future years, so I'm very thankful!
From 1:00-1:30, I walk down to the office to sign in (oops!) and I finish and print a draft IEP to be sent home for an upcoming meeting. I return 2 parent texts, log parent communication, and respond to 3 emails. I also administer a spelling test and several IEP checklists. Then I check in with a few of my students…one received an office referral for fighting 🙁 and two others struggled during enrichment. At 2:45, I scan the resource room to make sure it's in order for the next school day. At 2:50, I head out to support with packing up – a very busy time for first graders!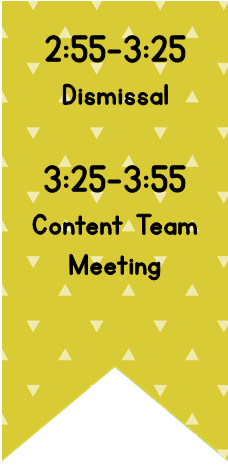 Yes, dismissal takes 30 minutes 🙁
Remember the 600+ students at lunch? Our school has over 1200 students total and they all need to go home! I walk 30 first graders about 1 mile (only a slight exaggeration) to our back gym for car riders dismissal. Then I move to an outdoor post for the next twenty minutes. I will not explain the details, because I really don't like to think about it! I breathe a sigh of relief at 3:25 every single day.
Next,  I collect my teaching bag and laptop to head into a content team meeting. Today's meeting is on math and our assistant principal leads us through looking at our most recent data. There are 8 of us (6 general educators, 1 special educator – me, and 1 AP). We wrap up at 3:55 and I head to my car at 4:00.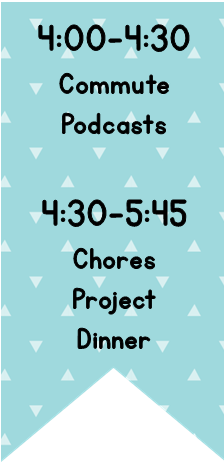 I listen to podcasts (Pat Flynn, Tara Gentile, Angela Watson) on the commute home. Today was a good day because it took 30 minutes to travel. My school is only 8 miles from my home, but it involves a highway and navigation through downtown. It can feel a little hectic and I'm always so relieved to walk through my front door at 4:30.
Mr. D and I tag-team our chores and today is all about laundry. Not my favorite, but much better than trash day (tomorrow). Chores are completed and I'm in my Lularoe leggings (a.k.a. pajamas) by 4:45. My hope is to log a hour of project work after school every day and today was a success! I continued my projects from this morning…I added updates to this blogpost and edited six more NWEA math slides.
Mr. D walks in at 5:40 and we both eat quickly (spinach salad with leftover grilled chicken). We meal-prep over the weekend in order to always have healthy meals ready to go.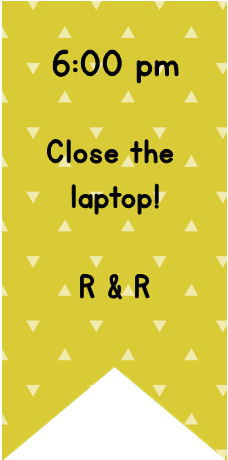 No matter what, my laptop closes BY 6:00 pm on weekdays and I am DONE with my work, even if I'm not actually finished.
Tonight I choose to spend my "R & R" time catching up on Instagram and cruising seller updates at Teachers Pay Teachers. Mr. D is stopping me every five minutes to show me University of Dayton men's basketball highlights. We are going to a game together this weekend and he's trying to help me remember all the stats (good luck with that!).
Please note, we don't watch tv during the week. We rarely watch at all, but if we do it's downloaded for the weekends.
I won't even tell you what time I fall asleep because it's embarrassing, but it is what it is 🙂
That's it! The most typical "Day in the Life" I've had in a long while. Boring? Most definitely, but it works for me and what I hope to accomplish as an educator.
My weekdays are about 14 hours and we do not have children. For all the parents out there…I truly don't know how you do it!
When do I get all my lesson planning done? WEEKENDS! I will typically log about 8 work hours on Saturday and 6-7 on Sunday. There's just no time built into the school day to meet our lesson planning requirements, plus paperwork. Special Education paperwork is no joke!
What's your typical day look like?
913 total views, 2 views today